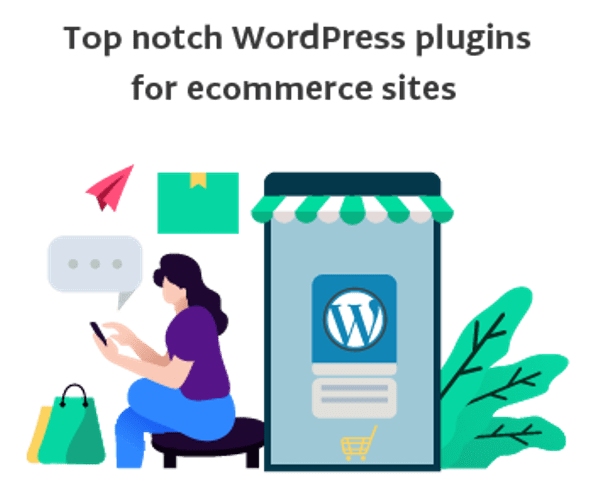 Every day, opportunities for establishing a dynamic online store seem to be increasing, and it's all thanks to leading eCommerce platforms like WooCommerce, Shopify, and BigCommerce.
While every platform has its own set of advantages and disadvantages, what's important is how well you can enhance your store with the help of plugins and add-ons. It's pretty simple – the more integrations are available, the better because you never know if you want to start email marketing on your site with the help of MailChimp or integrate a payment gateway solution like WP EasyPay.
Today, we will discuss plugins that are a must for any eCommerce website. Every featured plugin on the list is judged by three things: quality, compatibility, and features.
Restaurant for WooCommerce
Restaurant for WooCommerce helps you create a personalized restaurant delivery system in minutes. This plugin transforms your WooCommerce website into a fully responsive restaurant menu complete with delivery options, product and category sorting, and other customizations.
You can customize your menu and ordering system's options to give your customers an experience unlike any other.
Here are some of the outstanding features included in Restaurant for WooCommerce Pro:
Display your restaurant's name and description on the front-end menu.
Describe products under different categories (appetizers, desserts, extra, etc.).
Shows specific types on the restaurant menu using shortcodes.
Change the WooCommerce shop page into a restaurant-style page.
Cart and checkout customization choices
Display a mini-cart that showcases your entire order summary.
Add and display endless delivery options along with pricing selections (free delivery, express delivery, etc.).
Enable your customers to add comments (special requests)
Setup and configure the timing schedule (opening and closing) for each day.
Keep up with the competition with the advanced features and functions of WooCommerce restaurants-compatible with all devices with a responsive system.
OptinMonster
OptinMonster is the most influential lead generation and conversion optimization software for e-commerce stores. OptinMonster provides 50 splendid templates and drag-and-drop builders, so you don't need design experience and perform complex coding.
OptinMonster features include:
Drag 'n' Drop Builder
Campaign Triggers
Onsite Retargeting
Targeted Campaigns
Seamless Integrations
Personalized messages
Lightbox popups
Slide-in Optin forms
OptinMonster makes everything completely user-friendly so that anyone can build extraordinary events for their e-commerce store. By helping you create high-conversion activities and build popup windows campaigns, floating bars, and full-screen splash in minutes.
The conversion activities can be used to boost user engagement and website traffic and increase ROI, etc.
Wholesale For WooCommerce
Today, most companies that significantly impact the market owe it to selling their products at wholesale quantities and prices. Most wholesalers buy products or commodities from manufacturers and then sell them to industrial consumers, retailers, and other wholesalers.
Woocommerce wholesale store plugin helps WooCommerce stores build and control wholesale prices, multiple wholesale user roles, user-registration forms, price and product visibility, taxation, payment and shipping procedures, and much more.
Features included in Wholesale for WooCommerce:
Create and manage numerous wholesale user roles;
Control wholesale prices for single or variable products;
Describe varied prices and discounts for wholesale consumers as per their user role;
Manage product perceptibility (including settings specifically for wholesale user roles);
Advanced registration form builder with drag-and-drop functionality;
Hide wholesale bills and products for non-logged-in or visitor user on the shopping page;
Limit access and control who can view your wholesale store;
There are two versions available in the marketplace: Wholesale for WooCommerce Lite (Free) and Wholesale for WooCommerce Pro (Paid).
Gamification for WooCommerce
Gamification in WooCommerce extension provides you a relaxed way to gamify your WooCommerce store or website. Boost your website conversion rate by producing digital rewards such as points, rankings, and badges.
You can build a sophisticated brand image and reward your prime customers with points and cashback offers through virtual currency. Expand your customer base by motivating existing customers every time you recommend your brand-provide your sales team with better prospects and a higher return on investment.
Gamification for WooCommerce features list:
Build and control digital rewards with different ranks, badges, and WooCommerce points;
Bound product availability to the users with a particular rank or a badge;
Permit users to pay for their order using points or WooCommerce loyalty coupons on checkout;
Exhibit rewards that user can unlock on each milestone;
Reward points on WooCommerce referral products; 34393636
Easy Digital Downloads
Easy Digital Downloads is a dedicated platform and the world's leading plugin to sell digital products.
Although most add-ons and e-commerce platforms revolve around selling physical products, Easy Digital Downloads solely represent digital trading products.
This plugin enables you to build discount codes, impose limitations on downloads, and provide comprehensive tracking and reporting of download insights, sales, and other information.
Here are some of the features of Easy Digital Downloads:
Support listed user or guest counter
Enable the plugin to save customers' cart
Uphold an individual record for each customer
View, edit, or remove any customer record
Track consumer lifetime value and movement
choose flat-rate or percentage-based discounts
Setup automatic start and end dates for discount codes
View earnings by date range and type
You can also enhance new functionalities to your EDD store and sell digital software licenses and monthly subscriptions integrated with payment gateways, including PayPal, Stripe, and many more.
Donation for WooCommerce
A robust WooCommerce extension that enables you to collect donations without any transaction charges. Donation for WooCommerce is a WooCommerce plugin that can be added to the user's shopping cart and checkout for charity campaigns.
Donation for WooComemrce Features:
Accept recurring Charities;
Accept donation amounts in unit values;
Round-up the final bill and donate the difference;
Charity options on shop, product, carts, and checkout page;
Add different donation widgets anywhere on the website.
Show a progress bar to demonstrate the collected amount in currency value;
WooCommerce PDF Invoices & Packing Slips
WooCommerce PDF Invoice and Packing List is a premium plugin that can easily include an invoice in every customer order list.
features included in WooCommerce PDF Accounts & Packing Slips:
Automatically attach invoice PDF to WooCommerce emails of your choice
Download the PDF invoice/packing receipt from the order admin page
Generate PDF invoices/packings slips in bulk
Fully customizable HTML/CSS invoice templates
Download invoices from the My Account page
Successive invoice numbers – with custom formatting
If you need to comprise the packing slip in each invoice, you can select to download and print the bill from the WooCommerce order management page.
Conclusion
These are the best WordPress eCommerce plugins for starting, managing, and developing eCommerce-based stores. This blog will ultimately help you distinguish between the top listed options and do your best to serve your customers. If you have any questions about the best WordPress eCommerce plugins, please leave us a message in the comments below.
About Author:-
Zain Nayani is currently working as an SEO Expert at Objects and loves to write blogs, articles, and whitepapers for various platforms. His writings mainly focus on WordPress, WooCommerce, and other tech-related genres. Say hello to him at his LinkedIn profile.