Lotus Notes is a desktop-based email application that includes email, calendaring, address book, database, web server, and programming. Moreover, it has become the more prominent choice of all users due to its advance email management. Even the large range of users may rely on its services to carry out a secure electronic communication. It can use standard based mail protocols like POP3 and SMTP. As IBM Notes comprises both client and server components so, users can easily read, respond emails, and manage all of the environment through emails.
While Exchange Server is a collaborative enterprise server application developed by Microsoft for Windows Servers. It consists many services like email, address book, calendaring, web and mobile information access, data storage etc. It is a back-end server, which hosts mailboxes, public folders, and all related messaging data like address lists, meeting items, and resource scheduling. It works upon different protocols like IMAP, POP3, and MAPI protocol. Exchange Server is an additional mail routing service that itinerary mail into and out of any Exchange organization.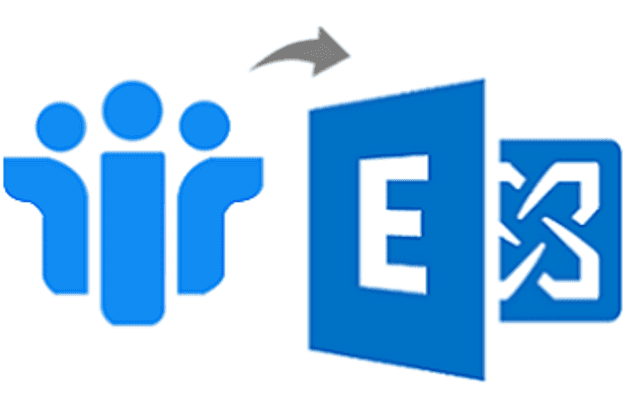 User Scenario
"Hello! We are RedCloud Corporation. We use IBM Lotus Notes to communicate with clients and employees. Last two months, all the computer systems of our organization reported same query 'Unable to find path to server' while accessing Lotus Notes. Well, we are familiar with this complex nature of IBM Notes and frequently we face many similar issues with it. Therefore, we thought that it is a normal problem but the situation goes worse when this issue was not resolved until the end of the day. Then, we call our maintenance team but then also the issue was not altered. Our IT Admin advised us that there is only one-way to get rid of this condition that is by moving all Lotus Notes data to Exchange Server. After migrating some sample files, we found that the NSF files we are transferring are getting corrupted after migration to Live Exchange Server. Then, we stopped the data migration process. As every other company, we too were having a large amount of data and keeping the data in healthy condition is must to run every organization. Now, it becomes a challenge to us that how to migrate Lotus Notes to Exchange Server. One of our team members, calls up to SysTools IT Help Desk and told them about the encountered Notes issue. After that, they suggested us to use Mail Migration Wizard for Lotus Notes migration to Exchange."
Major Challenges Faced by Our Team
Our team faced many issues before using Mail Migration Wizard for migrating their data from Lotus Notes to Exchange Online Server. Some of them are mentioned below:
Migrating mailboxes
Data synchronization
Maintaining data integrity
Converting encrypted files
Recurrence for Calendar data
Upholding internet header of NSF file
Co-existence amid Notes and Exchange
Sustain read and unread status of emails
The right amount of tools, assets, and time
Setup of Exchange Server and environment
Reliable Solution to Resolve Various Issues
Well, we were wedged in a very nastiest situation as Lotus Notes to Exchange migration has become a very challenging task for us. Then, as per SysTools expert suggestion, we have used Mail Migration Wizard. In the beginning, we were afraid to move our Lotus Notes database but as we transferred some NSF files to Exchange Server, our anxiety starts to  decrease. Finally, we migrated all our Lotus Notes data into Live Exchange Server without any trouble. The software performs entire migration process with maintaining the integrity of data and it translates conical names into SMTP format. The best thing we feel about this application is that it supports all versions of Windows OS. This amazing utility has solved a very great concern of our company.
Technical Requirements to Use Mail Migration Wizard
Installation and proper configuration of Lotus Notes Client
Lotus Notes should remain offline or not connected with Domino
Outlook application installation and account configuration is needed
Exchange 2003, 2007, 2010 & 2013 versions are required
In Windows 10/8.1/8/7 or Vista, open tool "Run as Administrator"
PC should support new and recent mobility functionalities
Dynamic participation of internal IT administration team is required
Feedback by RedCloud Corporation
The employee benefits by getting an operational infrastructure again. Mail Migration Wizard proved itself as a totally secure and reliable solution in the online market.
"A single wrong step that has been taken has put our organization in trouble. However, the Mail Migration Wizard is scalable and reliable software that extremely helped us out of many difficulties. We have no words to express our gratitude towards this amazing utility as it meets all our requirements and now we can administer our IT infrastructure expenditure. Additionally, it is a fully controlled service, which is supported by provider. Thank you so much SysTools" 
Words by our IT Admin:
"I have used so many tools for recovery and migration. But believe me, this is the most wonderful application I have ever used. It has a simple and user-friendly interface, even a naive user can use it without taking any external help. I would like to say a big thank you to whole development team for helping us out in this worst condition. Great Solution!! "