Innovative technologies enable the sale and purchase of nearly anything, including works of art, vehicles, collectibles, virtual people, and even some special occasions.
All of this was made feasible through NFTs, or Non-Fungible Tokens. They are selling for absurd sums of money, perhaps hundreds of millions:
The price of the very first tweet was $2.9 million.
NFTs called The Merge were sold for $91.8 million.
A collage of 5000 images called The First 5000 Days, created by artist Mike "Beeple" Winkelmann over the course of more than thirteen years, sold for $69.3 million.
NFTs are rapidly gaining acceptance, moving cryptocurrency out of the picture and enhancing blockchain capabilities to new heights.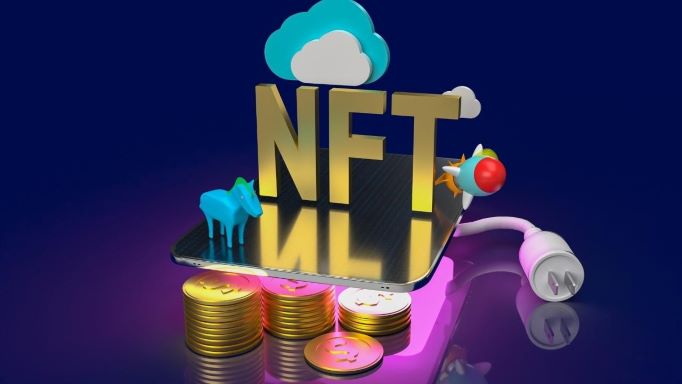 This article will outline the steps involved in constructing an NFT marketplace and discuss the benefits of doing so.
The following significant points have been discussed to shed light on the growth of the NFT marketplace:
What are NFT marketplaces and how do they operate?
Detailed instructions for building an NFT marketplace
Cost breakdown in the NFT marketplace
An NFT Marketplace: What is it?
Let's first grasp the foundations of NFTs before going on to the definition of an NFT marketplace.
A non-replicable cryptographic token known as an NFT resides on a blockchain and is one of a kind. Real-world tangible assets like artwork, real estate, collectibles, and even specific memories can be replicated by NFTs. NFTs, unlike cryptocurrencies, cannot be traded for one another because each token has a different value based on its particular characteristics and properties.
Here are several features that distinguish NFTs:
Unique value: Two NFTs cannot have values that are identical. Because of this, exchanging one NFT for another is not possible.
Genuineness: Every NFT has an owner. Ownership can be identified.
Integrity: Each NFT is a whole that cannot be broken down into smaller components.
Originality: Every NFT is different. Its individuality is established by a special value and collection of metadata.
Location: NFTs are a component of a blockchain.
A digital marketplace for purchasing and selling Non-Fungible Tokens is known as an NFT marketplace. There are mainstream and specialized markets. Because they specialize in selling a few certain types of NFTs and cater to a specific clientele, niche marketplaces are typically more in demand.
An NFT Marketplace: How does it work?
It's crucial to comprehend how NFT marketplaces operate before looking at how to build one.
Users can upload a token, establish a starting price, and sell their artwork or collectibles on the NFT marketplace to generate millions of dollars.
NFT marketplaces typically use the same procedure.
Signing Up: The primary steps in signing up are to create an account and link a compatible digital wallet, which is where users will store and manage their NFTs.
Buying an NFT: Customers have the option of purchasing and selling NFTs at fixed prices or through auctions. In some marketplaces, customers can contact sellers, make an offer, and haggle over a lower price.
Selling an NFT: Users may sell their own NFTs as well as NFTs they have already purchased (artwork, a tweet, a song, etc.). Users must upload digital assets to a marketplace, set a price, and select whether to hold an auction or sell the NFT for a predetermined amount. The asset is listed for sale after the platform verifies and approves it. The marketplace sends payment for the NFT from buyer to seller after a seller receives and accepts a bid.
Why Establish an NFT Marketplace in 2023?
Why create an NFT marketplace with all the hype in the industry?
The adage "statistics speak louder than words" is true. Let's look at some data that illustrates the prospects for developing an NFT business in 2023:
By the middle of 2022, the global NFT market is anticipated to reach $3 billion. The NFT market alone was worth $100 million in 2020. This growth has increased by 30 times in less than two years.
The Merge, the most expensive NFT, sold for over $91 million.
One of the best and most well-known NFT marketplaces, OpenSea, is worth $13.3 billion. The marketplace is regarded as a decacorn firm because of its multi-billion dollar valuation.
About 23% of Millennials collect NFTs and view them as an investment or hobby. A little under 8% of Gen X, 4% of Gen X, and 2% of Baby Boomers are NFT collectors as well.
The monthly expected total sales of NFTs are $1.8 billion. Art, metaverse, and collectibles are the most well-liked categories.
Without a doubt, the NFT market will keep growing in the future year. Either you can benefit from other people's success or you can start your own NFT marketplace.
A step-by-step guide for creating an NFT Marketplace
The process of NFT Marketplace Development entails a number of stages, actions, and choices that must be made.
On a blockchain, smart contracts are used to build NFT marketplaces. The development process can typically be broken down into ten key steps:
Step 1: Choose a niche
You must choose the kind of market you want to build if you intend to establish an NFT marketplace. There are a few that are particularly well-liked, like NFT marketplaces for art or gaming. Another option is to develop a distinctive NFT market.
Step 2: Find an NFT marketplace development company
If you are unsure of the answers to the aforementioned questions or don't want to learn the technical aspects of building an NFT marketplace, you will need to employ developers to complete the task.
Several choices are available to you:
Hire a freelancer: this is an excellent alternative if you require a talent for a few hours and have a little work. You will need a large team of professionals to make it possible if you want to create the NFT marketplace.
Hire internal developers: let's face it, NFT developers are hard to come by. Finding and hiring in-house professionals for your project is much more difficult. One drawback is that you'll likely require more than one specialist in the industry, and employing them will set you back a significant sum of money.
Employ an NFT Marketplace Development Company: Employing an NFT marketplace development company will let you to focus on business-related activities while leaving technical execution in the hands of professionals. The choice to outsource NFT marketplace development allows access to the world's top professionals. You won't need to flit from developer to developer, waste numerous hours attempting to keep track of everyone's work, or learn every detail of the development process. All of the tasks will be handled by the outsourcing business, freeing up your time for other activities.
What is the greatest site to locate NFT marketplace developers?
Starting your research on websites like Clutch, The Manifest, GoodFirms, and others is a good idea. These websites offer complete details about the business, its history, and its portfolio. On Clutch, adding phoney reviews is nearly impossible, which raises the site's legitimacy a notch or two.
Once you've narrowed down your list of potential partners, you may contact them up to talk about your project and their background. During the calls, you'll be able to gauge their level of competence in the field, comprehend how the organization aligns with your needs, and determine whether your personalities and communication styles mesh well. To have a deeper understanding of a company and how comfortable it is to work with it, you may also get in touch with current and prior clientele.
Step 3: Select the feature list
Now for the exciting part: selecting a features list for the creation of the NFT marketplace. Every marketplace should have certain fundamental elements, as well as a few extras that will set it apart from rivals.
Here are a few NFT marketplace features that you can use while developing.
The essential features that you may find in any software include sign-up and sign-in, user profiles, settings, and notifications. The evolution of the NFT marketplace is not an exception to this.
NFT platforms have a storefront, just like a conventional marketplace. It displays all of the NFTs that are being sold on the platform together with their prices, offers, histories, item activity, and other information.
An NFT platform's search system is its most crucial component. Advanced features like typo-tolerance, predictive search, voice search, AI-powered personalized search, etc. should be included in order to further refine the search.
There will most likely be thousands, if not millions, of NFTs in your market. You must design a platform so consumers can easily discover the things they need while keeping future growth in mind. The ability to filter NFTs by status, price, amount, currency, creation and expiration dates, among other criteria, can be added.
Users can mint NFTs on any NFT Minting Website. Simply said, they give users the ability to publish NFTs on blockchain and add them to the platform to make them tradable.
You might also think about including some cutting-edge functionality in addition to the aforementioned features, including an AI-powered content control system that prevents the uploading of unsuitable information, P2P NFT trading, favorites lists, tailored recommendations, and much more.
Step 4: Select a monetization strategy for the NFT marketplace
So how are NFT marketplaces profitable?
You can utilize the following monetization techniques for your project:
Listing Fees: Listing fees are a cost sellers on the NFT marketplace incur when listing (posting) their digital assets.
Transaction Fees: The marketplace deducts a specific percentage from each transaction done via the platform as transaction fees. For instance, OpenSea levies a 2.5% fee on each transaction.
Setup Fees: For listing their first non-fungible token on the platform, developers may be charged setup costs by the marketplace.
Bidding Fees: Bidders are charged a set fee for each bid they place on the platform.
Ads: Allowing people to advertise their NFTs on your sites is one way to monetize. Additionally, you can permit other businesses to place ads on your marketplace and profit from each ad placement.
Step 5: Create UX/UI Design
Without considering UX and UI design, you can't properly decide how to develop an NFT marketplace.
User Experience creation is the first step in good design (UX). In the NFT market, UX seeks to deliver a fluid user flow. The platform screens ought to be easy for users to navigate. No matter their level of technical expertise, all users should be able to understand the reasoning behind each action.
The functioning of the app is supported by the user interface (UI). Users see it right away when they arrive on the marketplace. The success of your project depends on its first impression.
Investigate your target audience's demands and preferences before beginning the design process. The NFT marketplace platform should be designed to satisfy user expectations.
Step 6: Choose a technology stack
Generally speaking, the front-end and back-end development phases of an NFT marketplace can be separated. The technology stack that can be utilized to build an NFT marketplace is illustrated below.
Back-end development
The backend of the NFT marketplace handles the server side of the marketplace and describes how every component of the platform connects with the server and database.
Front-end development
The creation of a website's or a mobile application's graphical user interface is known as front-end development. It includes all the activities required for users to interact with a platform and consume content.
You must handle the construction of an NFT website and an app independently if you choose to do so.
The platforms you intend to target and the features you intend to implement will determine the final technology stack.
Step 7: Test and deploy
This step is crucial since it enables you to ensure that your marketplace is clear of bugs and that users won't experience any difficulties engaging with it. You can only launch the marketplace after properly testing every component of the site.
Step 8: Promote and gather feedback
The moment has come to move on to other crucial responsibilities, such as marketing and obtaining feedback, now that your marketplace is operational.
Promotion should, in the best case scenario, begin far before the NFT marketplace actually launches. While developing your concept, you can work with influencers to spread the word about it, post updates on social media, and ask consumers to participate as the first beta testers.
A comprehensive strategy incorporating SMM, sponsored advertisements, influencer marketing, partnerships, and other techniques is possible while using a limited number of marketing channels.
The most crucial duty after releasing the solution is getting user feedback. You must comprehend what they appreciate about the NFT marketplace, what they feel is missing, and how they would like to see the platform improved in general.
Step 9: Plan for ongoing development and support
You will be able to make decisions on how to create and advance an NFT marketplace using the feedback acquired at the previous step. Even after it has been introduced to the market, improving the functionality, performance, and scalability of an NFT marketplace is a continuous process.
What is the cost of building an NFT Marketplace?
Finally, we've reached the most interesting section: the price of developing the NFT marketplace.
Costs for the most basic version of the NFT marketplace for a single platform start at about $50,000. (iOS, Android, or web). You will have to spend at least $150,000 if you want to add support for additional platforms and certain exclusive functionality. The following variables will affect the final development cost of the NFT marketplace:
Where you choose to work with an NFT marketplace development firm
The business you choose to work with
The specifications of your project call for developing UI/UX and branding elements (logo, icons, animations)
Technology stack Integrations with third parties
The complexity of functionality
FAQs
Which NFT Marketplaces are the most well-known?
There are many well-known NFT markets out there. However, a select handful have climbed a few ladders above the competition. OpenSea, Rarible, SuperRare, NBA Top Shot, Nifty Gateway, Mintable, and Foundation are among the apps on the list.
How does an NFT marketplace generate revenue?
An NFT marketplace can generate revenue using a variety of monetization techniques, including listing fees, transaction fees, setup costs, bid charges, and advertisements.
How much does creating an NFT marketplace cost?
The average price of developing an NFT marketplace is from $50,000 to $500,000. It's a ballpark figure, and the actual cost will depend on a range of elements, including the technologies utilized, third-party integrations, the design and degree of customization, the features and their complexity, and more.
About Author:-
Suzanne Dieze is a technical content writer and preferably writing technology-based blogs and articles. I have a few published pieces under Mobile Based Applications, and Data science consists of proven techniques, future costs, and benefits.