AOMEI PE Builder is a free AOMEI upper back or AOMEI partition assistant's assistant, as well as a free software, can be installed without aik/waik cases, based on the Windows PE (Windows preinstallation environment) to create a bootable environment to CD/DVD, USB flash drive or ISO file. It integrates a set of tools that enables you to boot up your computer for easy maintenance and fast recovery tasks when the native system is corrupted or cannot be used. AOMEI PE Builder has a simple and convenient interface and a Windows environment that everyone knows about it, including desktop, Windows Explorer, start menu, taskbar, etc. It is easy to use just like using Windows 7. You can choose the most convenient one according to your preference like a CD/DVD disc, USB flash drive, or ISO image file. Now AOMEI PE Builder 2.0 has released!
What's new in AOMEI PE Builder Version 2.0:
Support to download Windows 10 recovery environment to create a Windows PE bootable media.
Support to cancel operations during the creation of a Windows PE bootable media.
Add new function: Windows PE can guide the media to support EFI and legacy BIOS boot mode.
Now AOMEI PE Builder fully supports Windows 10/Vista/XP.
Update built-in tools.
Fixed some known issues.
More details from here: http://www.aomeitech.com/pe-builder.html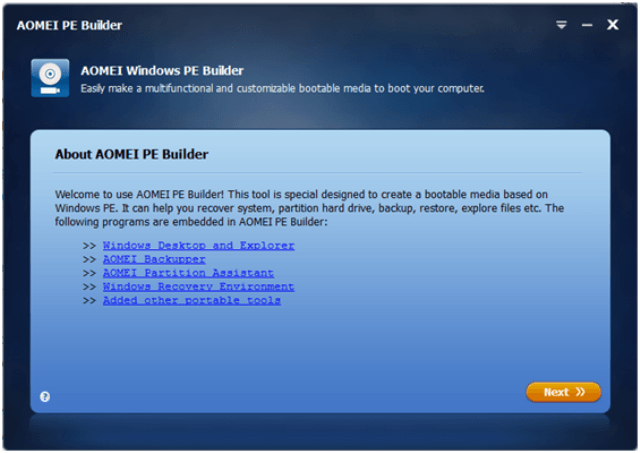 The main Features of AOMEI PE Builder:
Familiar Windows Interface
When you create a WinPE bootable disk, AOMEI integrates desktop, Windows Explorer, start menu, and taskbar into the WinPE environment. This makes it easy and effortless for you to manage files and documents, just like using Windows operating system.
No AIK/WAIK Installation
Typically you have to pre-install Windows AIK or WAIK, or prepare a Windows installation disc to create a Windows PE media. AOMEI PE Builder allows you to create a Windows PE boot disk without having to install aik/waik. It will save your valuable time and energy!
Pack Portable Tools & Drivers
Except for many built-in tools in AOMEI PE Builder, you can still specify your own Windows PE through the following two functions:
Add Files: Include more portable tools you like into WinPE bootable disk.
Add Drivers: Add multiple drivers to WinPE bootable media to recognize more hardware.
Support Network
The WinPE created by AOMEI PE Builder can be connected to a network; through the network, you can:
Off-line antivirus: You can download directly anti-virus software off-line version in Windows PE system when the computer is locked and can't remove viruses/Trojans due to viruses attack.
Maintain system: System administrator can easily maintain systems of computers which have different hardware. For example, you can easily backup system to NAS or network shared directory.
Creating Environment Download Supported
If you don't have a Windows PE creation environment on your computer, or if you want to create Windows PE based on Win10, then the PE Builder can download and automatically create Windows PE. It also supports to download the shared Windows PE creating an environment on cloud services manually.
Double-Boot-Mode Supported
The bootable media you create is compatible with both Legacy BIOS and UEFI, therefore you don't have to create two medias for those two boot modes separately.
When Can PE Builder Do You a Favor?
When the system can't start up, you can boot into the computer with PE Builder and transfer important data out.
When the computer breaks down due to virus attack, you can use PE Builder enter the machine and download off-line antivirus software. Then, clean up those viruses and rebuild your system.
When forgetting your PC password, firstly enter Windows PE system with the help of PE Builder, then remove login password and restart the machine.
In What Situation Will AOMEI PE Builder Help You?
1.Computer breaks down suddenly, and you can rescue system with tools snap-in the Windows PE created by AOMEI PE Builder.
2.Infect virus to cause computer boot failure. You can use the Windows PE created by AOMEI PE Builder to start the computer to transmit the data, and then pack the offline version of the antivirus software to kill the virus.
3.You can maintain the computer with tools snap-in the Windows PE created by AOMEI PE Builder.
For better hard disk and partition management, AOMEI Partition Assistant is on a Windows PE created by AOMEI PE builder.
5.Forget Administrator password when you want to enter the computer. You can change or remove login password with NTPWEdit tool snap-in the Windows PE created by AOMEI PE builder.
6.If you have used AOMEI Backupper to create system backup, once your computer breaks down, you can restore the system with AOMEI Backupper snap-in the Windows PE created by AOMEI PE Builder.
Conclusion
To maintain and manage the PC system's AOMEI PE Builder, the enterprise will maintain the PC and server. In most cases, Windows PE created by AOMEI PE Builder can be connected to the network. This network can help you to download the offline version of antivirus software directly from the Windows PE system created by AOMEI PE Builder. In terms of system protection and maintenance, AOMEI PE Builder will save a lot of time and money. In addition, if you need to your disk partition, you can also use AOMEI another partition magic AOMEI Partition Assistant to help you!