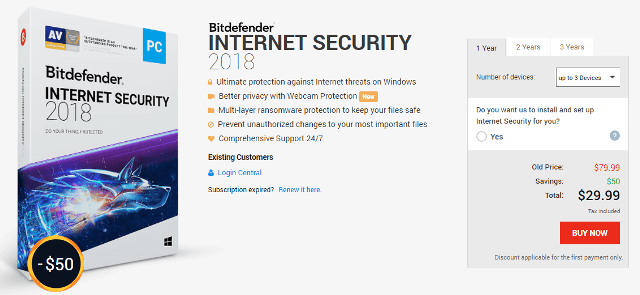 A robust antivirus and anti malware solution are critical for any computer in today's world. Whether we speak of our home computers or office ones, it's really important to have security in mind. Cyber attacks can result in identity and Data theft and can lead to serious issues. Protecting our personal  and financial data  is always a good idea and Bitdefender is always there to give a helping hand.
The most important innovation in Bitdefender Internet Security 2018 is anti-ransomware. Advanced Threat Defense monitors programs and services and intervenes if they display deviant behavior that poses a threat to the data on the PC. In addition, the Safe Files feature enables users to prevent others from changing their most important files. Of course, every file that is placed in the safe Files is also protected against ransomware and malware.  Other new features include Webcam security that prevents webcam espionage and Account Privacy that checks every three days whether the user's mail address is included in a list of hacked user accounts.
The newly released the Bitdefender Internet security 2018, which is even more capable of protecting your computer than the previous version. It keeps all the best features of the 2017 version and adds something more.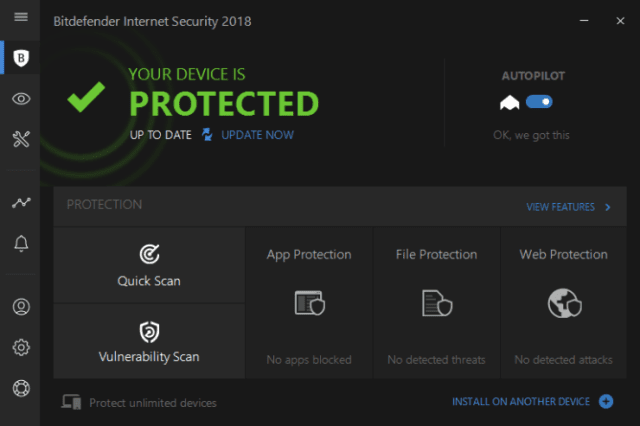 Complete System Protection: Bitdefender Internet security 2018 provides complete protection to the system from various malicious software like viruses, trojans, etc. It also offers complete protection to system files from the latest ransomware through several avenues like multilayer protection from ransomware, the safe file option, etc.
Advanced Threat Defense: Through this, it monitors all the install apps and takes immediate action if it scans any suspicious activity hence it can also protect the system from various Adware attacks.
Webcam Protection: This is the new feature which comes with the latest 2018 suit. It prevents unauthorized access to the system Webcam without the user's consent.
Strong Internet security: It is packed with some internet security features which can make the users' browsing experience smooth.
Anti-Phishing and Anti-Fraud features help its users to detect potentially harmful links. And it automatically blocks suspicious links which can harm the system.
The dedicated browser is also there which can be used for secure online transactions.
The firewall comes with latest techniques and protects the system from the hands of hackers.
It also provides Social Network Protection, hence it can protect your social media accounts too.
Parental Advisor option is also there through which parents can monitor and control their children's online activities.
Performance: There are some other features also which provide excellent performance:
Autopilot mode: Due to this, it works smoothly in the background and takes action on its own without disturbing the users.
Bitdefender Photon: This feature makes Bitdefender adapt system configuration and works accordingly to provide best user experience.
Global Protective Network: GPN is used due to which all the having scanning is done of the cloud because of which our system works smoothly.
Battery Mode: This features acts as a battery saver mode and can help in extending the battery life.
Password manager, Risk Checker, File Shredder, etc. are some other features which also included in this internet security suite.
Webcam Protection: If you're concerned that malicious users can access your camera, you'll be happy to hear that Bitdefender Internet Security 2018 has a Webcam Protection feature. With this feature you can set a list of trusted applications that can access your webcam. As a result, unknown third-party applications won't be able to access your webcam without your knowledge. You can also block all access to the webcam if you want to ensure maximum security. If you want to keep a close eye on webcam usage, you can even get notifications when trusted apps connect to the webcam.
In the last test of AV-Test Bitdefender Internet Security again achieves maximum scores on protection and performance and only the usability is just below . According to AV-Test, the delay in opening well-known websites at Bitdefender is just the same as with competitors. Whether you really notice that will depend on the speed of the PC. Besides being very capable when ensuring protection against different threats, the Bitdefender Internet Security 2018 will also take care of your computer and use as little resources as possible. The Bitdefender Photon feature is capable to perfectly adapt to the needs of your computer and use as few resources as possible, improving the speed and performance of your system. In the past, antivirus and anti- malware solutions took a serious toll on our system's performance. Thankfully, this has changed a lot in the past few years and now they can actually improve your system's performance.
Pros:-
Excellent antivirus and malware protection, Low system-performance hit, New webcam privacy feature
Cons:-
Lacks VPN and backup software
Conclusion
With Bitdefender Internet Security 2018, you find an award-winning antivirus and a strong, silent firewall, but these two are supported by an amazing cast of characters. In addition to the simple spam filter, enhanced parental control, and top-notch phishing protection, you get webcam safety, ransomware protection, file encryption, and much more. If you are convinced this is the antivirus solution for you, you can purchase it for $59.99 for a single computer or take advantage of a great deal Bitdefender is now offering: install the Internet Security 2018 on up to three devices for only $29.99.