In the present world, the printer becomes an important part of every modern office and homes. It eliminates the trouble of visiting the market for every single printout.
But the high cost of original ink and toner cartridge is the biggest trouble for many business concerns. Therefore, printer owners choose re-manufactured printer cartridges over generic cartridges.
Compatible cartridges have a bad reputation in the industry due to faded results, messy outputs and high failure rate. Hence, buyers prefer re-manufactured cartridges to save tons of money than original and compatible cartridges.
What are the re-manufactured cartridges?
Buying re-manufactured cartridges are a cost-effective solution which are created from used original printer cartridges. These are not only an affordable solution but easy to buy too.
Now, if you imagine that re-manufactured cartridges mean that produce shabby images that easily fly overnight, you are wrong here. Technology has developed enough from the last few decades. There are a number of manufacturers that sell much better quality ink and toner cartridges than ever before. Are you interested to know how? If yes, read this write-up till the end you will know the step by step procedure of manufacturing re-manufactured ink cartridges.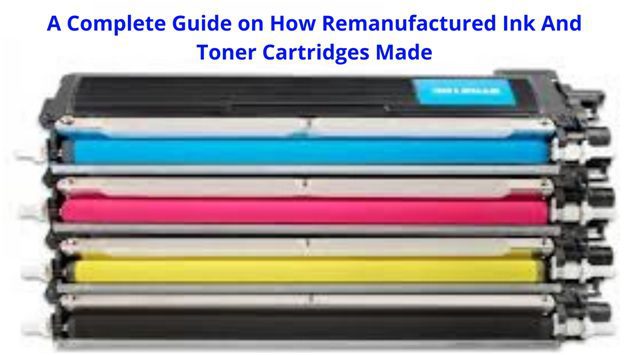 Steps for creating Re-manufacturing cartridges
Step #1: Making of re-manufactured Cartridges
The first step in the making of old cartridges is collecting used cartridges at one place. And then these cartridges disassembled by using adequate tools. Workers throw out all broken parts and clean the cartridge with the vacuum cleaning process. Later on, the next employee is employed for a final check and cleans all material from a plastic container. Once everything seems to be cleared and swapped out from the photo drum. A minute is spent on separating usable and broken parts.
Step #2 Installing a new blade
At this step, new two blades are installed. One is to remove dust and other waste material from the printhead and another to put ink or toner on the drum.
Step #3 Filling ink or toner into cartridges
Next step is to load good quality ink or toner into the drum. Keep in mind, the good manufacturer always uses fine-quality ink that meets users expectations of printing. While loading the gasket is installed to save ink or toner from flying.
Step #4 Testing while Packing
As the customer becomes more aware, re-manufactured cartridges companies also conduct testing before sending their product to the market. Only those that passed the test are sent for sale. These manufacturers also pay attention to packing. They test packing from all ends before delivering.
Once everything is done wisely, products are only then sent to the market. After getting such valuable information, let's know little more about these cartridges.
Re-manufactured Ink Cartridges are Good For The Environment
These days, resourcing is depicted due to regular landfilling of used cartridges. Many people prefer to buy original cartridges every time when the ink runs out. But this landfilling is putting a negative impact on people and their lives. A single plastic container takes around 1000 years to decompose properly. As a result, our earth and environment need to bear this material for many years.
Therefore, using re-manufactured cartridges are doing a bit for environment safety. In addition, these manufacturing units provide employment to a larger number of workers like separating all cartridges, refilling, packing and marketing. As a result, buying re-manufactured cartridges means you are saving resources and boosting economic growth.
Sometimes User may Compromise with Quality from Re-manufactured Ink Cartridges
Today, a large number of items like fashion clothes, banners or roadside hoarding are printed. For them, using an original cartridge is a perfect solution. But if your aim is not to provide such superior quality printouts or you are just printing regular text print, remember using re-manufactured cartridges will be the best choice. This is a more affordable option than buying original ink cartridges.
There can be a chance of inconsistent print quality from such re-manufactured cartridges. But it can be avoided if you choose only one printer cartridges re-manufacturing company and buy in bulk cartridge. Keep in mind, it will not be a wise decision to buy bulk unless you test and try their previous cartridges. And always consider a manufacturer that can offer you specific period warranty or replacement policy.
Re-manufactured Ink Cartridges are Good For Text Printing
In a study, it was observed that printouts or images obtained from original cartridges like Epson won't fade up to four decades. Whereas the life of re-manufactured cartridges only observed less than 4 years. This makes a great difference and reasons for people's choice of using branded cartridges.
Remember, if you are dealing with bulk documents printing, especially which are used for a shorter interval, using re-manufactured cartridges will be the optimal choice. As all re-manufactured cartridges producers are not bad. Some of them produce good-quality cartridges that meet your expectations. Using them is also an affordable solution.
Finally, using re-manufactured cartridges is not bad advice, you can use them. But always look for your printing purpose and good with re-manufactured cartridge sellers that provide warranty for their product.
About Author:-

Jack William is a marketing specialist from Wellington, New Zealand. He works as a Digital Marketer for Printzone, which is the biggest warehouse of printer cartridges, Hp toner & Brother Ink etc. He also writes articles on technology and business for several online magazines and websites.