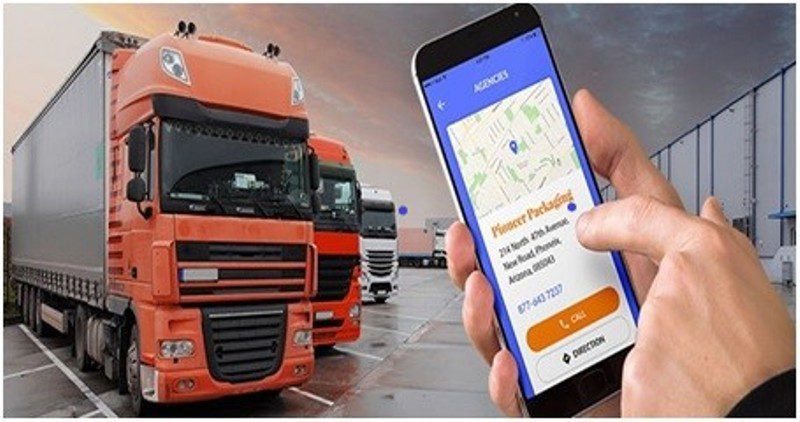 Logistic management solutions have a significant role in the logistics industry. It is safe to say that the logistics firm depend on quick solutions and reaction time. Earlier, communication between all the concerned parties was slow.
Technology was new and smartphones were not present. Hence, delays, unwanted misunderstanding, and client dissatisfaction was a common occurrence. Today, with the surge of the Internet and smartphone technology, these have been solved.
Not to mention, due to heavy competition logistic firms are careful about client loyalty. Quick decisions are taken and communication is maintained at an all-time high. Moving products or cargo from one location to its destination is not easy.
There is air-to-air transport, water or shipping, and surface or road transport. Most of these are used on a constant basis. With the help of mobile apps, certain processes have now become simplified and things can be done with a wink of an eye.
In a fast-paced environment, these solutions help the logistics firm to take crucial decisions. Not to mention, workers work smartly and efficiently.
In this article, we have discussed some of the applications and benefits of mobile apps in the logistic industry.
Mobile App Solution for Logistics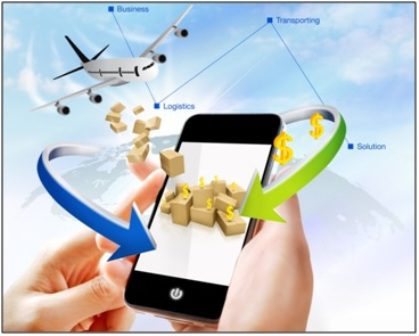 Mobile apps designed for logistics have greatly enabled the firms to take decisions that are productive and help them retain clients. The mobile warehouse management app has helped them understand more about the on goings in the warehouse.
The visibility has improved, consignments can be now easily identified, items can be shipped without issues, and resources can be utilized without hassle. The products can be now picked, slotted, verified, and counted effortlessly.
Apps for mobile asset tracking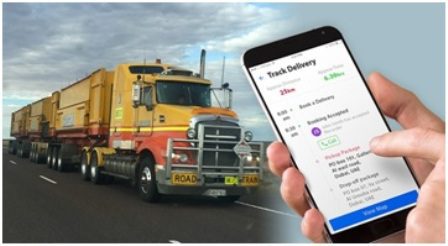 With the mobile asset-tracking app, you can easily find out the location of your cargo. Having this crucial data is vital for any logistics firm. It is crucial that you are able to deliver the cargo or goods without damage and on time.
With the help of this solution, you can now exactly track where the goods are. This helps you to find out details on delays and inform clients accordingly. Not to mention, you can also decide on the route beforehand so that the delivery is made on time.
Apps for doorstep delivery
Doorstep delivery apps enable you to speed up the doorstep delivery. The mobile app can help you deliver goods on time. Apart from that your pick up services are also greatly enhanced.
The app is present on your worker's smartphone and can give him/her all the details including the address, delivery details, transportation time and others. The vital information is designed helping the worker to provide efficient service.
This improves in the time take for delivery and goods can reach the destination before or on time. The space, which is present in the warehouse, is also great reduced. When too many old goods take up space, then it becomes an issue to store new products.
Apps for fleet management solution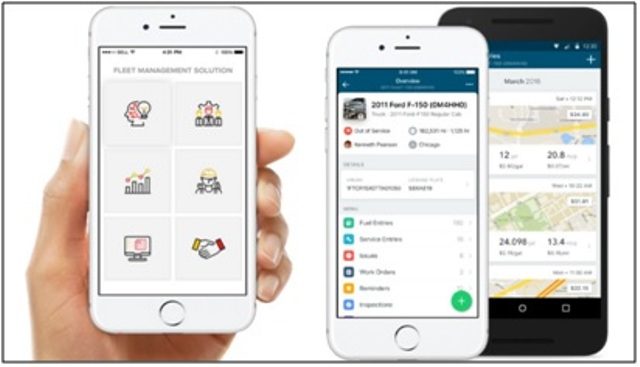 As a logistics firm, you tend to wonder how you can get more from your fleet. You also feel that a solution to help you increase your resources while reducing costs of operations is greatly needed.
Having data on the drivers and fleet offers you information on your vehicles and assets located inside it. Data on the routes to be taken, delivery times, the driver's work timings, and importantly driving behavior helps you decide on the transportation plan.
The app helps you to take efficient route decisions, manage the fleet effectively, reduce on the fuel and cost of maintenance of your fleet, delivery schedule can be kept track off, and good drivers can be retained.
Apps for customer services
The app also helps you provide efficient customer services. Once the client downloads the app, he/she can keep track of all details. It helps in tracking the shipment, bookings through smartphone, customer feedback.
Customers can now book services for door delivery. They can also track the exact location of the goods ordered. Complaints and feedback can be now viewed through the app. Once you are able to satisfy the client, client loyalty is improved.
Benefits of Logistic App Development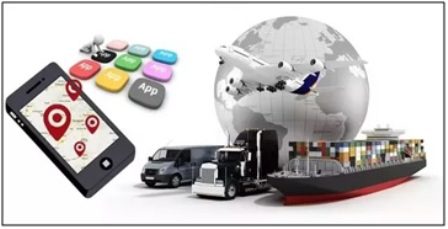 The benefits of logistic app development are immense and credible. Gone are the days, when drivers had to radio the destination about delays or arrivals. Moreover, the data was never accurate or correct.
Thanks to technology along with smartphones, the data can be easily got with a click of a button. This has immensely benefited the logistics firm, client, as well the workers. The scope of performance and delivery was always an issue.
Today, mobile technology is enabling firms to easily communicate with several transportation networks to be able to become efficient and accurate. Mobile apps are a necessity for the logistics area to help them take better decisions for their clients.
They help in offering you better control on your goods, operate efficiently by showing you routes, which are shorter, they save you money, and give you greater visibility on the transactions.
Dynamic tracking of cargo and vehicles
You can easily track your vehicles and the precious cargo. Gone are the days, when drivers could hoodwink the logistics firm or client by falsely claiming to be near to the destination, when otherwise.
That is no longer possible. With technology along with smartphones apps, you can check the exact location of your vehicle and cargo. The need to disturb the driver when he/she is driving is no longer there as you can find out the details with a press of a button.
Minimize the time of delivery, unloading and shipping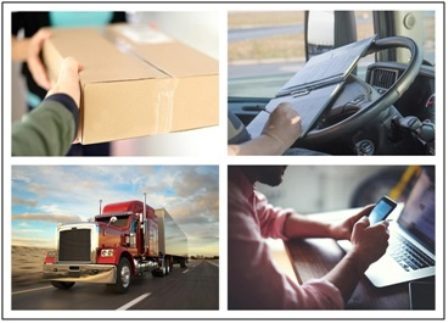 As a logistics firm, your main aim is to delivery on time, if not quicker, if possible. Client satisfaction is paramount during shipping, unloading, and delivery. Using a logistics mobile app enables you to process these in a quicker manner.
You save time as a result can get the cargo delivered on time. Not to mention, your workers get some free time to relax before continuing the next leg of journey. It also helps in efficient communication between all the parties. You can check out Shipcarte for all of your shipping needs. Get access to efficient, quality and transparent service at affordable rates.
Elimination of existing paper-based process
The need for entering information into papers is no longer required. Since this is an app-based technology, everything is done on systems and smartphones. Sensors are provided which can help workers to communicate with smartphones.
At times when goods that are perishable have to delivered, these sensors can easily find out if there is drop in temperature or other issues. This vital data can immensely help in knowing how the cargo would be affected.
Flexible delivery process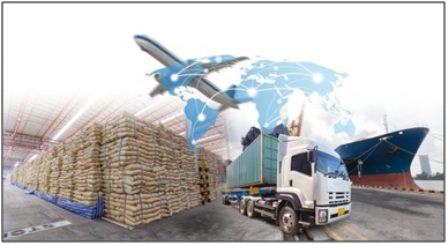 The flexibility is provides to deliver a process is commendable. The mobile technology can easily detect flaws if any and immediately highlight them. When the logistics firm is armed with this crucial data, they can easily improve on their services with reduced errors.
Everything becomes transparent and clear for them now. For any logistics firm the accuracy is always an issue. With the help of mobile technology, the delivery process becomes a lot easy and simple.
Real time information
Using a mobile app, firms and customers can have real time information on the go. The need to rely on anybody is not there. At times customers need to be present at the given address for accepting the parcel.
In these scenarios, they can track the cargo and plan their work likewise. The need to wait at home or office the whole day for the delivery in not there. Hence, all the concerned parties do not affected due to unexpected delays.
Minimize human errors
You would be surprised, but mobile technology helps in reducing human errors. This helps workers to take safe decision. A driver can login and logout using the app. The need to be present at the location is not required.
Since the logistics firm keeps track of them, the drivers have to enter precise data. Otherwise, also the data get automatically stored in the systems present in the firm. That enables them to enter the data at their own convenience.
Improve scalability & security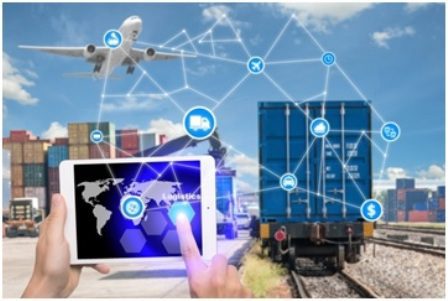 The scalability and security of the logistics firm is greatly improved. That is because the need to wait for crucial information is no longer required. The information can be seen immediately and action can be taken when required.
This helps the firm immensely as safety of the workers is improved and vital decisions can be made immediately. The time taken for providing solutions to these problems is reduced which improves delivery time and saves money.
Wrapping up
As logistics and transporters look for ways to improve their services, they face few obstacles in the form of smartphones. Sometimes they can distract workers to no extent. Hence, apps have been designed such that the drivers are not distracted when driving.
Not to mention some logistics firms are hesitant to invest in these apps. However, they have proven to be immensely useful and come with credibility. They feel that technology will cause more harm than good, which is not true.
When you want to stay ahead of your competitors, you need to ensure that you make use of the latest logistic management solution. A good logistics management system can help your firm improve its efficiency by cutting down the travel time, save you money, and ultimately increase customer satisfaction.
About Author:-
Varun Patel is the corporate director and CEO of Coreway Solution, a leading offshore web development company offers a wide –range of scalable, reliable, robust and state-of-art IT solutions. His innovative approach helps entrepreneurs to grow their business in the emerging market and transform their business vision into goal completion.