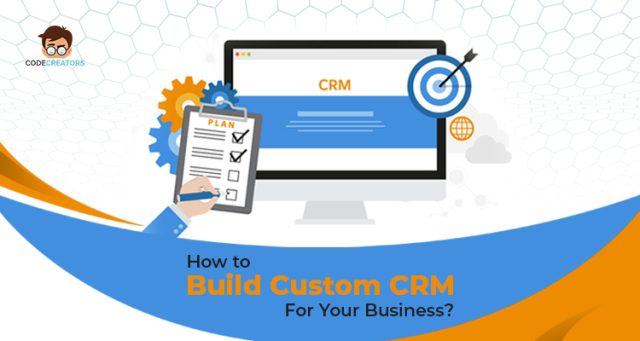 Modern-day business cost analysts and experts strongly agree to the fact that 'What could be automated, must be automated. Business process automation has become the latest trend to avoid any kind of task repetition and exhaustion among employees. CRM which is an acronym for Customer Relationship Management software is a program designed to automate all the relevant processes to avoid discrepancies and to provide a consistent experience to the customers.
CRM helps businesses to improve task flow in various aspects including marketing, customer support, and sales. CRM automation is also proved to bring an approximate nine-times profit to every single dollar invested within its development. Although over 50% of business companies are found to be having CRM, not all managed to successfully implement it.
In this blog, we are discussing What is CRM, Who Needs Custom CRM Software, How Custom CRM can be created for your business and What are the potential CRM development costs?
What is a CRM?
Zoho, Apptivo, Salesforce, and HubSpot – if you are familiar with any of these names, then you must have experienced some ready-made CRM software. And, if you have used one, you must know that it is quite challenging to get their on-fit-all type of features, especially when your business needs are very precise and particular. Well, in that case, you need Custom CRM Business Software.
Regardless of how typical you believe your business is, it is type, operating style, inner processes, and team management styles are unique. This is why it is always so hard to find a ready-made CRM that precisely suits your needs. If we talk about CRM, it is not a new concept it exists for decades now. Because maintaining data and information of potential and existing customers has always remained important for providing them with an improved experience, better services, and bigger profits.
CRM not only helps in keeping and analyzing customers'' information, but it also efficiently categorizes data to support managers while enabling database access convenient to them. CRM has now become an automated marketing tool that plays a crucial role in sales growth and customer retention. CRM works seamlessly with customer information collected from different sources including phone history, websites, social media analytics, email services, etc. Main users of CRM include Marketers, Sales Managers, Brand Analytics, and Support Agents.
According to a survey by GitHub, both non-custom and custom CRM software are likely to collect a market worth $36 billion by the end of 2023. While, at the same time, over 47% of companies have already invested in CRM with 90% adoption rate. However, the companies who have chosen in favor of custom CRM have shown 100% satisfaction rate.
Who Needs a Custom CRM Software?
Business organizations are usually confused about the fact that whether they need a custom CRM or if a regular, non-custom CRM would do the work. In some cases, certain business niches have been filled by specialist software solutions – an example of this is crm for mortgage brokers or lawyers. However for businesses whose specifics have not been provided for, the development of a custom CRM may seem like the only solution. To avoid any kind of mistake, you can check out the following things to analyze your needs for custom CRM Development.
For custom CRM you require specific integrations depending on your product consumption. You need custom CRM with personalized UX and UI if your customer integration process is not standardized or you aim to collect any specific kind of data in a certain manner. If this is the case, you need to get your CRM custom made, because ready-made CRM's does not offer significant alterations in UX and UI.
Guide to Create Custom CRM Solutions
When you are in the pre-occupational stage, your job is to find out what are your specific needs within your CRM system, what profits or revenues you want to generate from its deployment, and who, in your company will be using the tool. You can begin with development when your answers are ready. CRM software development is comprised of the following steps;
Create CRM Step-by-Step
Stage 1. Design
The functional design concept should be developed and approved first. Then comes UI design. You've completed the stage if you have a workflow scheme, a description of functional processes, a user interface elements library, and a working prototype from your designer.
When you are talking about CRM system design, you are talking about UX and not about visually attractive features.
Depending on the uniqueness of your business, your custom CRM solution can be straightforward or univocal or time-consuming, and tricky. But ensure that you have hired a skilled CRM developer with sufficient experience in hand.
Stage 2. CRM Development & QA
Once your design is ready, present it to your development team along with a workflow diagram and prototype. At this stage, you are required to choose a design framework to bring your design to life. Your development team must approve the project road map and deadlines. Then comes the stage when software architecture and coding of your CRM software will take place.
Next comes the testing phase, in which the software presentation is offered to your consulting team for the client company and load testing is conducted for Quality Assurance. Remember that most CRM systems have various apps that are designed for different types of workers, they are integrated into a single database and are linked functionally.
Stage 3. CRM Software Launch & Monitoring
The launch of your custom CRM software begins with app deployment. And, implementation of a whole new system within the workflow requires time. A significant amount of time is taken by database integration, and the rest is taken by program installation on all the potential devices used by your staff, while also training them about its efficient usage.When the system becomes operational, it is crucial to analyze how people are adapting and reacting to the software. Because if you want your custom CRM to be effective for business management and automation, hence it is important to constantly analyze user behavior and also continue product iterations.
Custom CRM Development: Cost and Features
To determine the accurate cost of a custom CRM is not possible because the features differ vastly and the requirement of every business too. But, we can give you a few hints based on the most commonly preferred CRM functions along with the estimated time spent by the development team on it.
However, you must also keep in mind that additional funds will be needed to be allocated on project and design management (approximately 30% of the total CRM development cost). Alongside, you may also need to purchase personnel training to make the tool effective.
On average, the total cost of custom CRM development with not overly unique needs ranges between $45,000 to $50,000. In terms of the per hour rate, it may cost around $50/hour. However, the rate may differ according to the reasons. For instance, you may find cheaper CRM developers within Asian regions.
In case, you want the CRM development cost precisely, our CRM development experts can examine your business needs, target audience, and objectives for you, and can provide you with a close estimation. To connect with our experts, click here and find out everything that you need to know about your future CRM system.
About Author:-

Sam Khan is a Professional Digital Marketer at Code Creators Inc. A software development company in the USA That provides SharePoint development, Microsoft Teams, Power BI consulting, CRM software, mobile app, SharePoint Online Services, and more.