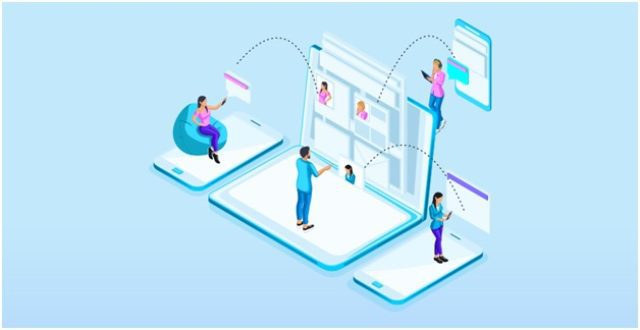 2020 has proved to be unpredictable if nothing else. It can be said that the COVID-19 pandemic has led to the emergence of a new world order. Everything—be it general tasks such as getting groceries and shopping, or going to school or work—is now completed using online platforms.
With WHO Statistics showing over 10 lakh confirmed cases in India and rising, these novel consumer patterns are here to stay. For businesses, this is the time to implement remote solutions as close contact and public gatherings are no longer feasible; digitization and digitalisation are now the rising trends.
Online communication is more crucial than ever. In this time of uncertainty and doubt, you must reassure your customers that your business is worth investing in, even more so in the given circumstances. Customers must trust your brand enough to not only buy from you but also provide you with accurate feedback. Such assurance will ensure effective business management in the time of COVID-19.
Market insights are extremely vital. You have to analyze and act upon consumer behavior instantly. With consumer purchases becoming more digitally inclined, companies should also seek new market insights that are aligned with the ongoing pandemic.
How Can you use These Online Platforms to Better Communicate with Customers Better and Understand their Needs?
Communication with customers is no longer limited to a single telephone line. In our technologically led society, there are several new methods—email, social media, messaging, chat rooms—that allow the company to connect to its consumers and vice versa. Thus, you are able to analyze conversations as per the medium's structure and interface. Let's discuss how different platforms can enable remote solutions that provide market insights for your brand:
Social Media: It is the age of social media; more so in 2020. As people have become home-bound, they are spending more time than ever online. As a business, you must have a strong digital presence, providing reassuring content to your consumers.
You can use the platform also to conduct various surveys. For example, Instagram, Twitter, and Facebook provide users with a poll feature. You can add this to your content and allow your users to give definitive feedback on their favorite products, their anticipated releases, or even their preferred mode of communication during the pandemic.
Another way you can utilize social media is through chats. AI-integrated software helps employ chatbots that communicate with your consumers without manual intervention. Any feedback and information customers provide can be assessed to give you a better idea of what the market demands.
According to an online study conducted among people in Delhi, Bengaluru, Mumbai, and Chennai, the consumption of social media has increased by 75% during the pandemic. Businesses need to focus their presence on online platforms that the general population is constantly visiting.
Online Research Communities: Online communities are an emerging set-up for qualitative research of the market. Consumers are selected in private communities to provide answers to the businesses' questions, generally revolving around the performance of the brand or the existing market demands.
An online research community provides a coherent remote solution to focus groups. Using these communities, you can ask relevant questions to the consumers, who are not limited in their scope of answers.
When conducting online research, ensure that you ask people questions relevant to the pandemic. For example, instead of asking 'How often do you shop for groceries?' which will undoubtedly be varied and inconsistent, you could ask 'How do you manage the procurement of groceries?' This question will allow you to analyze from where they shop, how often and through what channel. Use the online community to your advantage and ask more qualitative questions that give a detailed insight, unlike general statistics.
Emails/messages: The best thing about email communication is that it is fast and efficient. You can reach thousands of people in a few seconds. Using this system, you can approach several clients with messages, surveys, and offers. Whatever your customer decides to do with the email aids in understanding their behavior.
The same goes for messages. Using SMS messaging services, you can instantly reach a multitude of customers. Give them an incentive to help you gather information. For example, you could promise a 20% discount on your services if they answer your questionnaire. This allows them to gain something while you receive constant market insights. A win for both sides!
Online Events: Trade shows are a traditional method of communication between a brand and a consumer. For centuries, fairs, trade shows, conferences, and other large-scale events have been used to provide a space for conversation. However, with the coronavirus pandemic being omnipresent, many companies have had to cancel their events due to the risk of contamination. Many organizations have thus digitized their activities to continue the process online.
Use the digital platform to set up live events and conferences. Those who attend the event have the potential to be active sales leads. Furthermore, you can provide a platform for your clients to speak in detail with you about your endeavors. This way, you keep your consumers informed and entertained, while also gathering market insights for your business. You can follow general online conversations that are not particularly concerned with your brand to better understand the overall state of mind consumers have.
Cloud Telephony: Cloud telephony refers to the functions of a telephone line, operated through a cloud system. This may not be an online channel in itself; however, it can provide a solid quantitative analysis of certain marketing attempts. By assigning an extension of a toll-free number to a phone, you can better comprehend the responses of a marketing campaign. When you separate the campaigns, you can easily gauge which one is successful according to the number of calls each extension receives.
Furthermore, with AI-integrated cloud solutions, you can enable customers to communicate without the need of a live agent. Clients can provide feedback and pose queries. You can easily record and further analyze these conversations to understand general consumer needs better. Moreover, cloud solutions also include—as mentioned earlier—toll-free numbers that you can associate with every online post to encourage communication between consumers and the business.
Use voice broadcasting service to reach a mass audience and instantly conduct surveys that people can answer using an interactive voice response (IVR) menu or voice recording. This will give you appropriate market insights and instantly guide you to sales leads.
Remember this golden rule: Incentivize your audience. If you add a bonus to their attempts, it is more likely that they will feel inclined to respond. This is true for all platforms.
What can you do to Ensure Active and Consistent Communication?
As discussed earlier, a brand can ensure active market insights based on communication across various channels. However, there is a prerequisite to this—consistent and active communication is required by both parties. A consumer is only inclined to communicate with a company that communicates with them. There are several ways of maintaining this connects:
Put out regular content: This goes without saying. Whether it is a post/video on social media, a text on messaging apps, or a voice broadcast through a cloud telephony system, a brand must keep its existence known to the customer base at all times. Consistent messaging will not only build trust but also enforce recall value to your brand's name and logo. Don't forget: Out of sight, out of mind.
Respect the time/status quo: Communication amid a global pandemic cannot be the same as general communication made otherwise. A business cannot survive by ignoring the current events and the impact they have. When putting out messages, ensure that your posts are respectful of what is going on in the world today. Address the issue and explain why and how your company will support its customers, rather than giving out general information.
Avoid anxiety-inducing content: Yes, it is vital to acknowledge the presence of coronavirus and its consequences. However, that does not mean your content intimidates consumers. Your posts or messages should be uplifting, inspiring, educating, and comforting. People should recognize that your business provides a solution. Even while dealing with grim facts, end on a hopeful note.
Tell a story: Constant use of overly promotional content can exhaust the consumer. Clients prefer social posts that entertain them and persuade them to share it further. Instead of constantly promoting services, use online platforms to build a relationship. Tell a story, entertain and touch a chord in your clients' hearts. Your customers will associate different aspects of the story to you and recall your brand. Furthermore, they will be compelled to give feedback once they trust your brand.
Conclusion
Communication is a road that runs both ways. It is no different when you are a brand. To want information from the customers, you must facilitate online communication yourself. Fortunately, there are several mediums to go about the same. In this COVID-19 pandemic, there is much to be communicated as a company and much to be understood of the consumers and their buying behavior.
Providing them with a platform and consistently listening to them will assure them of your trustworthy nature. People will then be likely to give you feedback on your services, which can be used to further enhance your business operations. Online communications are imperative to help your company gain market insights and improve performance. It's a win-win situation.
About Author:-
Vanita Arora is a marketing enthusiast. She is currently working with Servetel, a leading cloud telephony service provider. Reading novels, travelling, researching new online marketing trends are some of her interest areas that keep her rejuvenated.