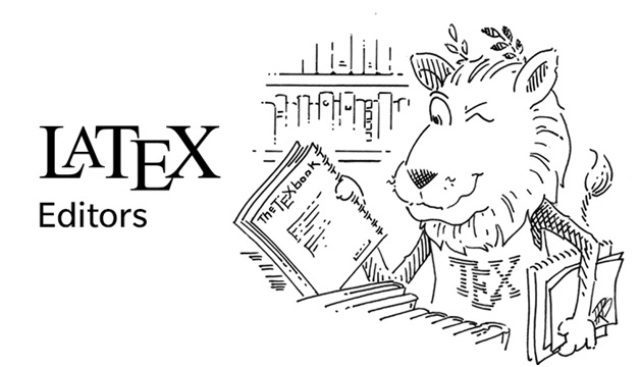 A High-quality typesetting system with technical mathematics, writing journals, psychological or scientific fields, known as LaTeX. It is widely used for the communication and publication of scientific documents, statistics, computer science, chemistry, engineering, political science, etc. It is one of the most popular methods of document presentation and used for any form of publishing. Quite similar to HTML in its formatting, LaTeX is one of the most commonly used text editors. It's a market level text editing tool that separates the word formatting from the content entry task.
The best latex editor available today and can help in controlling the content on your own terms by:
It allows control even over large documents through sectioning, cross-reference, tables, etc.
Includes artwork or color, etc.
Typesetting the articles or slides presentations.
Many more features tag along with best latex software are available for Linux, but, it's difficult to choose the Best LaTeX editor for both advanced and beginner users. However, you don't have to pay for using LaTeX, i.e., there are no license fees. Simply download and install the software from the official website. We have shared some of the best latex editors that you should check before installing in your system.
1. LyX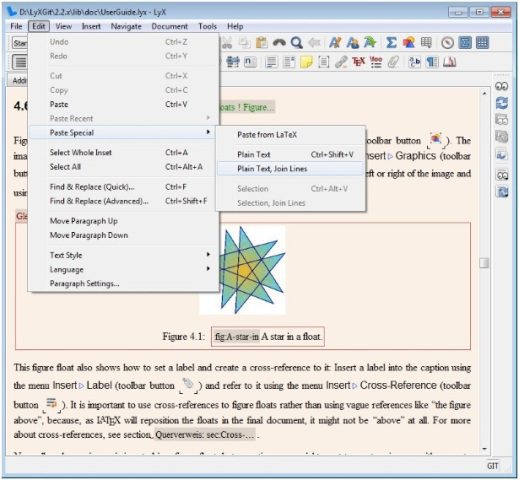 Most popular LaTeX editor with many modern and unique features. You can even use it for structuring your own novel or script apart from editing mathematical documents. LyX is an open-source editor and it's available on a number of platforms including Windows, macOS, and Linux. It contains advanced tools to access any algorithm, arrays of the equation, theorem, etc. that can be dragged and dropped quickly.
Key Features: They are Visual Mathematical Editor, Auto-completion,  and some more
2. TeXstudio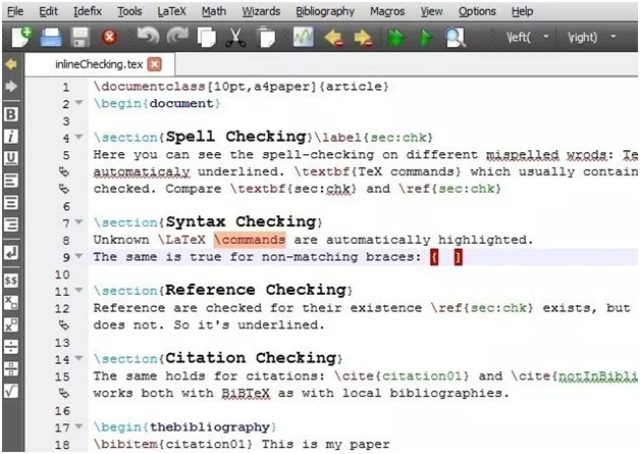 Another open-source and multi-platform LaTeX editor, easy to use interface, a decent level of customization, and multi-platform LaTeX editor tool.
Key Features:, Spell-checking, Built-in PDF viewer, Syntax highlighting,Auto-completion, Insertion of Tables, Figures, Mathematical formulae, Export to HTML and more.
3. Texmaker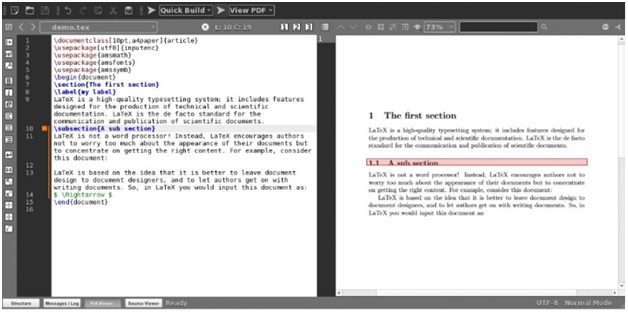 One of the best LaTeX editors available out there and most user-friendly LaTeX IDE for new ones.
In Texmaker, the document layout is setup using TeXmaker, the document can now be compiled to get it extracted as a PDF, HTML or ODF file format.
4. Kile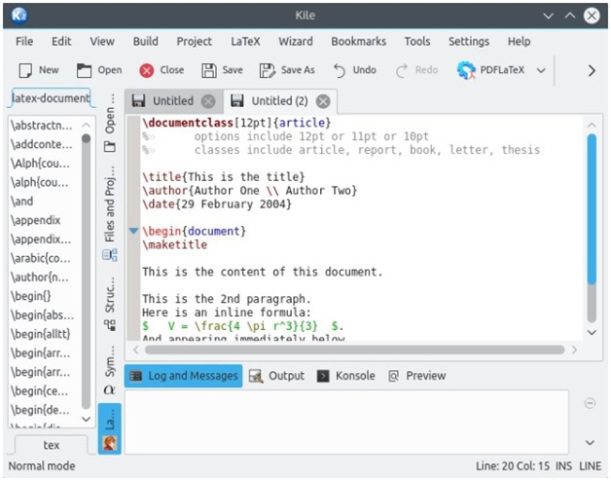 Kile is a fantastic LaTeX editor that offers some unique features like image insertion, creating tables automatically, and enumeration macros are helpful. Kile software is very useful and will teach nicely and professionally if you are a beginner.
5. Gummi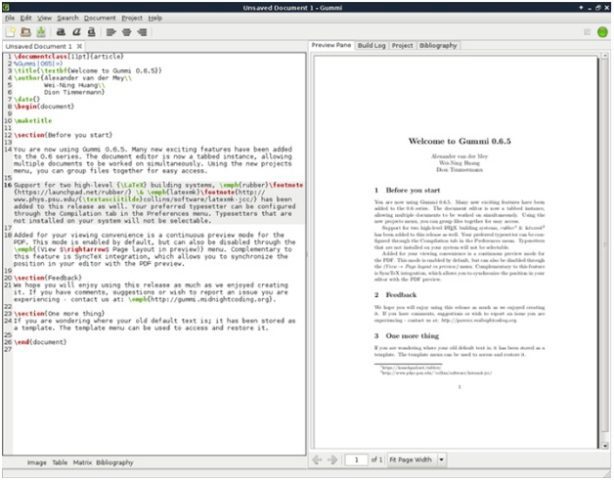 It is also an open-source and cross-platform LaTeX editor available out there. It has a two-pane view mode which helps the user to edit the syntax and formatting error easily. Gummi also saves a PDF copy automatically and contains smart features like image addition, citing tool, spell-checker, document viewer, etc.
It has various types of templates, bibliography management, wizards, Live preview makes it user's first choice very easily. Though you may not be able to find mathematical symbols and document summary here, its work efficiency makes people go for without another thought.
Key Features: Citing tool, inserting images, helpers for matrix and table editing, configurable snippets of code, spell checker, built-in document viewer, etc.
6. Overleaf(Online)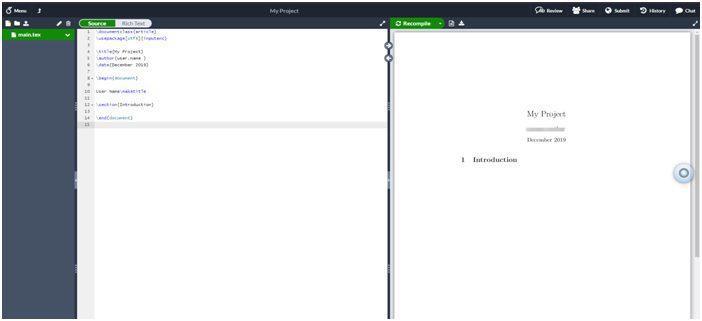 One of the best smart online writing and collaboration tool that claims to have a large user base all around the world. It is perfect for people searching for templates of CV, Resume, assignments, letters, projects, presentations, and more than 500 others. Interestingly, you can enjoy real-time collaboration to find out each author's contribution.
Its Error control and Notation support make co-authors familiar with WYSIWIG editors easily take up to this tool.
7. Papeeria(Online)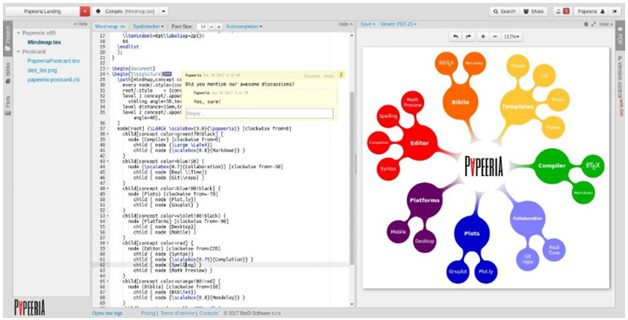 The best online LaTeX editor which is quite good with advanced tools and features with integrated Gnuplot, templates, project versioning and real-time collaboration. It gives you an open-end option having an awesome auto-compilation feature to compile everything in the background.
Moreover, it is absolutely workable on mobile phones and desktops are no necessity for editing.
Key Features:, Huge library of templates,Real-time collaboration, Document history, Google Drive, Dropbox and GitHub syncing supported and more.
8. Authorea(Online)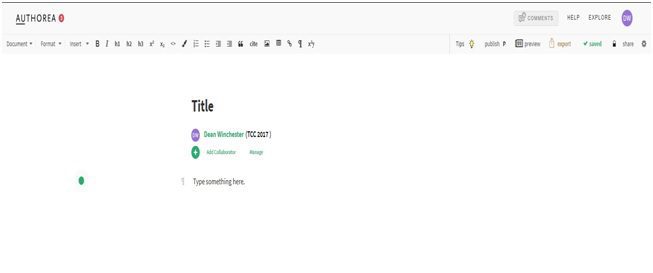 If you are into more web-based LaTeX editors, Authorea should be the best option for you The insertion of a mathematical formula, images, and tables is pretty straightforward with Authorea.
Key Features:, Auto-creation of Bibliography,Simple insertion of Images, Mathematical formulae, tables and more, Collaborate, Cite papers Commenting feature and more.
We have mentioned the best LaTeX editors list that will help you to choose the right one for your task. We would suggest you to please download and check the best LaTeX editor and if you want to add more LaTeX editors or if we missed something in terms of LaTeX editors, feel free to mention in the comments section.
About Author:-
Gajendra Singh is placed at Systweak, as an Digital Marketer. His potential of writing is PC tips, Android and Mac and Windows software tricks and he is anxious in writing other technical blogs like best latex editor for look after. You can also find Gajendra on Facebook, and Instagram