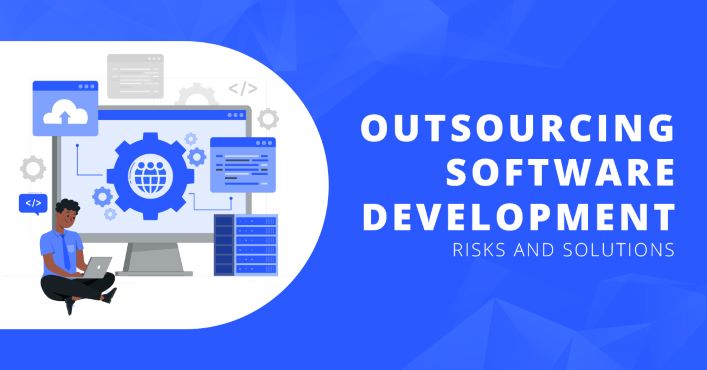 Software development outsourcing refers to hiring a third-party service provider to build unique and innovative custom software solutions. After the great recession, which forced multiple countries to outsource software teams for reducing costs and continuing business, outsourcing became a trend. Even though it was for business continuity factors then, outsourcing software projects for development are still in practice.
According to recent statistics, the global IT services market has an estimated CARG of 8.4% and the IT outsourcing market of 7.7%. On that account, the IT industry is expected to be worth around $1070 billion by 2025 and the IT outsourcing (ITO) market would be valued at around $806 billion. This would still be more than 75% of the whole IT service industry.
What is outsourcing software development?
Outsourcing in general terms is defined as contracting portions of software development work to outside suppliers or software development service providers. It is widely known as a business practice of hiring third-party service providers for software development tasks. In such scenarios, the hired outsourced team remains in charge of their team and technologies to deliver desired results.
Top risks of outsourcing software development and how to overcome them
Software development outsourcing comes along with a lot of benefits such as reduced costs, short boarding process, and access to a global talent pool, higher market availability and much more. Nevertheless, when it comes to handling an entire software development function of your business to a third party, risks are a part of the deal. Here are some of the outsourcing problems and solutions to avoid them.
Loss of control
One of the biggest challenges in software development outsourcing is the lack of control. Business processes that were initially assembled by an in-house team, when outsourced to external teams leave you with little to no control over them. Moreover, if the project is mismanaged by the outsourced service provider may affect the quality of your project.
A lot of outsourced software projects may take up to longer to attain the functionalities quoted by the outsourced software development team. This delay could be caused due to operational factors such as inaccuracies, poor management, inaccuracies and miscommunication.
Solution: To avoid such operational risks, you have to stay in the loop with your service providers about the progress of your project.
When opting for a software development outsourcing team, weigh the roles and responsibilities you want to hand over to them along with a well-thought plan. Here are a few ways you can include to eliminate this risk factor:
Track metrics and KPIs
Set meetings timelines
Hidden and uncertain costs
Outsourcing software development comes along with the chances of hidden, unforeseen costs such as relocation, updates, redeployment, troubleshooting, overtime charges and much more. The outsourcing company may charge you additional fees in the name of modifications or last-minute changes. The prime goal of outsourcing is to save costs, not pay more.
Such hidden and uncertain costs might add up and increase the budget of your software development project significantly.
Solution: To refrain from such costs that increase your budget you must keep your needs and requirements clear with the software development outsourcing team right from the start of the project.
Moreover, you can sign a software development contract stating all the additional costs down to the nail. While you are at it, you may also ask for detailed documentation for software outsourcing by listing each and every expense that incurs from the beginning to the end of a software development project.
Also, to protect your sensitive data and for security purposes, you can sign an NDA with the outsourced team of remote software developers.
Lack of Domain Expertise
All companies and business have their specific area of expertise. This may be based on industry research or anomalies of working with the targeted audience. Domain expertise is one of the most crucial things that help in achieving goals briskly.
Solution: If you have concerns regarding the lack of domain expertise of the outsourcing team then you should hire and work with software development service providing company who has experience in working with your industry. Also, you can ask for the prior project portfolio showing their worked done in your niche industry.
Quality drawbacks
From an entrepreneur to an existing business owner, everyone strives for perfection and excellent results. Thus, when an outsourcing team pitches its solutions and services to you, you will be promised high-quality deliverables. It is not imperative that a new third-party service provider will guarantee you quality services.
Solution: Quality drawbacks can deprive you of both time and money for your business especially when you are looking for a faster, pocket-friendly solution. Thus, you must evaluate the work quality of your outsourcing service providers by getting in touch with their past clients and discussing their received deliverables.
Communication barriers
Lack of communication is one of the biggest challenges faced in a software outsourcing project. No matter how many project management tools and technologies are used for communication, if a proper channel is not designed for the smooth flow of communication, mishaps are bound.
Additionally, if you are hiring an outsourcing team from a country of a different time zone, one of the teams may have to clock in at night to get detailed discussions and exchange ideas.
Solution: Translating your ideas to the members of the outsourced team is a challenging task. In such scenarios, you can avoid miscommunication by allocating a person of contact between both teams that ensures smooth communication flow among the team members. Also, defining proper communication channel beforehand is proffered.
Difficulty in finding the right vendor
The quest of looking for the right outsourcing service provider for your software development project is perplexing. They must have the right set of skills, expertise and experience in working on your industrial projects. Adding to the matrix, they must have access to the latest tools and have experience in solving complex projects under tight deadlines. This long list of requirements may vary from business to business. Thus, you will need to spend some time on due diligence.
Solution: You'll need to assess the average size of projects handled by the software development team. Furthermore, you can find the best one from the list of top software development companies based on the client review and ratings and various intrinsic aspects. While doing a thorough background check, you must also check how long the software company has been in business and what clients they have worked with in the past.
Why should you outsource your software development?
Outsourcing your software development project reduces costs by a significant amount and aids in growing your business in a quick, efficient and cost-effective method. Even though outsourcing comes with a lot of returns and risks, it also comes along with solutions and many valuable business advantages that overcome all the obstacles.