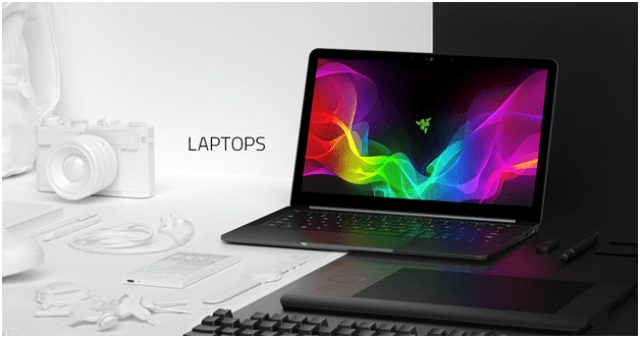 In the 21st Century, the generation is more indulged in indoor online games rather than outdoor ones. They prefer playing video games on devices like play station, Xbox etc. However, the technology has now taken a great turn and has now started gaming laptops, such laptops that are specifically designed for gamers. If you are a die-hard fan of games, investment in a gaming laptop does not seem like a bad idea.
They look exactly like our normal laptops but have certain differences in the design. These have higher heat levels without causing the gamers any sort of discomfort. These laptops are equipped with larger batteries to combat the extra power consuming, also causing the laptops to be comparatively heavier. These are packed with the most dedicated processors which are super powerful. They are very portable as compared to big desktop rigs. The main attribute of a gaming laptop is its Graphic processing unit which gives great graphic performance. With great amount of memory, gaming laptops allow you to easily switch back and forth. All these features and attributes make the gaming laptops comparatively expensive. Packed with high end components, it is very difficult for any gamer to find a gaming laptop that is affordable.
Gaming laptops have a come a long way and they don't take much time to get outdated. They always need an update in some way or the other be it their power, design or affordability. This blogpost will highlight some of our picks of the best gaming laptops with respect to their features, quality and sizes.
Not only this, we will highlight, in detail, about their compatibility and their specifications making it easier for you to do a smart purchase.

Acer Predator 17x – It's the best!
If you don't mind investing a little extra for your gaming spirit, then Acer Predator 17x is by far the best! Its starting price is $2500. It is powered by an Intel Core i7-7820HK, 32GB of RAM, and Nvidia GTX 1080 graphics. All these features make it one of the most powerful gaming laptops you can buy. The price in comparison to the features makes this gaming monster totally worth it as you get a powerful hardware along with lightning-fast performance and strong chassis.

Dell Inspiron 15 7000 Gaming – It's Budget-Friendly!
What's better than getting a gaming laptop for less than $1000? Even though this may not be the perfect gaming laptop but has the most dedicated GPU and its base configuration offers a quad-core i5 and a GTX 1050. This system can handle today's games on High at 1080p and can also play popular titles which is a lot of muscle for the price!

Razer Blade – It's portable!
Gaming laptop with MacBook style? Razer Blade is all that you need! It offers the perfect gaming performance in a thin and portable laptop. Its price range starts from $1700 and is packed with an Intel Core i7-7700HQ in with an Nvidia GeForce GTX 1060, despite the system's slim profile. It has a Chroma-Lit keyboard and trackpad that stands out the most!

ASUS Zenbook 13 – It's the best Stealth
ASUS offers all that you need for your gaming and computing spirits. ASUS Zenbook 13 might not look like a gaming laptop and this is one reason why it comes under the category of stealth laptops. It comprises of Intel Core i5-8250U processor, 8GB of RAM, a 256GB SSD, a 1080p display, and an Nvidia MX150 discrete GPU. It is very thin and light in weight plus the price ranges from $1000 which is also very reasonable. It's stealthy because it's everything you need in a 13-inch laptop.

Alienware 17 – it's 17 inches
Alienware 17 is not as portable as other gaming laptops but gives you full 1080 performance. It has a 16GB RAM, a powerful i7 processor. Moreover, it has a stunning organic LED to give true dark colors. Even though its battery life is average and its fans are loud but it comes with a GTX 1080 mobile GPU and a 17.3-inch 2560×1440, 120Hz G-Sync panel and these features make it one of the best gaming laptops of 2k18! It price range starts from $2500.
Let's End it!
Gaming laptops provide an immersive entertainment experience, all thanks to their powerful graphics, gorgeous displays and great audio in a portable package. A few gaming laptops also offer stylish designs, desktop-quality keyboards and the ability to use high-end VR headsets.  With gaming laptops, you can take your PC gaming on the go. You can choose from a variety of low to mid-tier gaming laptops. So, whether you enjoy fast-paced competitive shooters or white-knuckle racing games, expansive role-playing games or atmospheric horror tales or even detailed strategy simulators, these laptops will turn out to be the perfect fit for your gaming needs.