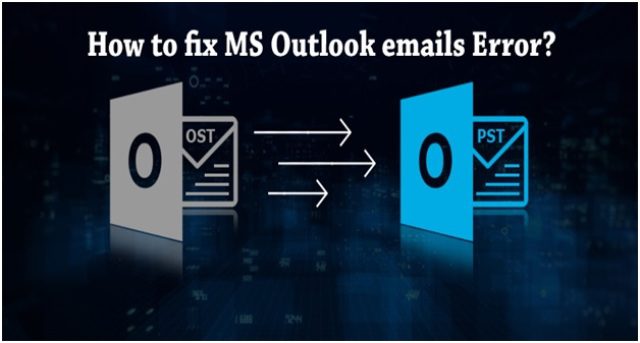 Microsoft Outlook is a broadly used email service around the globe. It offers a wide and high-class array of features as well as gives user-friendly experience. But there's the other side of it, where discussion forums are packed with annoyance over Outlook issues which seems to have nil solutions. In this post, we will observe the issue and try to resolve the Outlook error: "cannot open your default email folders." This Outlook issue generally occurs when user trying to open their Outlook profile. Corrupted OST file is also one of the main reason behind this error.
What is OST file?
OST is the default storage file which lets users perform various tasks on offline mode. It synchronized the offline data and any modification in Outlook into exchange server. OST file can become damaged due to numerous reasons. Few are mentioned under:
Deletion or removing folder file from the Exchange server.
Invasion of any malware or virus.
Interruption during synchronization process because of the sudden or irregular shutdown.
Few interior discrepancies in Outlook.
Bad sectors of the hard drive where the OST file is stored.
Changes in internal folders can create issues.
In-compatible Installed plugins can damage Outlook performance
Know the reasons which trigger "cannot open your default email folders" error
Users faced various issues while starting the Outlook application and report about irritating pop-up saying "Cannot open your default e-mail folders". Due to this, the user fails to open the data and it also hampers the work as users fail to process their important tasks. Here below are some root causes which triggers this issue.
These issues occur if MS Outlook application is running in compatibility mode,
If Outlook's Navigation Pane Settings file has been tarnished, it pushes application towards discussed error
Damaged or corrupted Outlook OST and accidentally deleting profile can lead to this error
Moreover, it can affect the application without giving prior warnings, so here below is the troubleshooting guide which gonna help you to get rid of this issue completely.
Troubleshoot cannot open your default email folders
As this error can hamper users on a grand level, so here we gathered the list of solutions which helps to troubleshoot this error. Follow below solutions one at a time and move to the next method if the previous one flops.
Switch off Outlook's Compatibility Mode
Go to Outlook installation folder C-Program Files-Microsoft Office XX -> Outlook.exe]
Right tap on the file "exe"
Hit the "Compatibility" tab from the Properties
You will see "Run this program in compatibility mode" option unselect it.
Click on "Apply"
Run Outlook in Safe Mode
Using Outlook in safe mode disables all add-ins which you have installed to enhance the applications. Incompatible add-ins can be the origin of various Outlook errors. Consequently, it is always a wise option to try below steps to fix the issue.
Open the Windows Run box
Type outlook /safe in the Run box
Press Enter
Check if the issue still persists
Repair Outlook PST with ScanPST.exe
Microsoft's inbuilt Inbox Repair Utility, ScanPST.exe can be used to repair minor damages inside the PST file. In order to use this tool follow these steps:
Go to the Outlook installation folder and find ScanPST.exe
launch the application by Double-taping on it
Browse in ScanPST.exe to choose the damaged PST file
Click on 'Repair' to start the process
After finishing the process, a message will display the result. If the PST is fixed, you will be able to launch Outlook without any worry.
Use a professional tool
By using a specialized OST to PST conversion software is the finest mode to repair and recover OST file data. It is a very general thing that, not every user is techy and own enough technical knowledge to understand the issues. Especially when you are managing Outlook.
Recovee OST to PST Tool
Recovee for OST to PST is an innovative OST to PST converter tool which is specially designed to troubleshoot situations like discussed in the post. This tool allows to re-create and recuperate damaged OST file without even disturbing the quality of content. The tool offers a gentle GUI which helps to use this software effortlessly and gives user-friendliness. It is loaded with a number of eye-catching features like users can import multiple corrupt or damaged Outlook OST files in a single attempt. The list of features of this tool is very long but the demo version is the center of the attraction. It is loaded with many highly advanced features same as a licensed version but with limited access. Demo version comes with a period of 30 days at the cost of nothing. Users can use this tool and can save up to 25 emails from all mailbox properties. Recovee OST recovery tool is the only tool which gives quality features at an affordable price and technical support for the tool is also available.
Link: https://www.recovee.com/ost-to-pst-converter.html