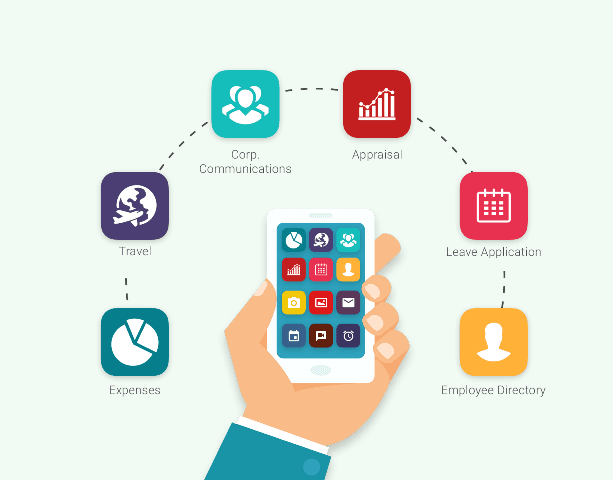 In the present world, a mobile app is an essential one for the business executives to generate the new customers and also to maintain the old one. Mobile devices help the customers connect to the outside world. These mobile devices can be a Tablet or a Smartphone.
They are capable to connect to the internet and fetch information instantly. Smartphone apps provide meaningful information to the users. Since apps are changing the world, they have become crucial for businesses.
An app should be available on all platforms because people access apps through different platforms. Everyone download apps for the sake of updated information. If a business has a mobile app, there will be more visitors and promising customers.
Smartphone apps for the professionals are quick, easy and fun to use. These apps help in the growth of organizations. A mobile app can create thousands of opportunities for any business and can help business to have a better growth.
Today, mobile apps are becoming a focal point in a number of business industries like hotels, restaurants, banks, financial institutions, retail stores etc. From small and mid-sized to large organizations, mobile apps increase customer services, improve customer relations and have a direct effect on business growth.
People are spending more time online than on any other form of media. A survey from famous magazine says that around eighty percent of the time spent on mobile devices is spent using mobile apps.  These apps are becoming the dominating form of mobile interaction. A huge number of enterprises see the potential in developing a mobile app for their enterprises.
Apps to achieve the Growth of an Enterprise
Google Drive:
Google Drive is an important tool for the professionals, administrators, entrepreneurs and business executives. One can create, access, share files and folders from anywhere in the world. Excel components with plug-in integrations for document signing, editing are available in this tool.
JustFly:
JustFly app allows one to book flight and hotel deals within fraction of seconds. They also offer the best travel deals at an economical price. The payment process can be executed by using the credit card or PayPal system. Receipt and transaction details are sent both in the email and mobile message. This app proposes timely discounts and combo offers. It is sleek and easy to use.
Square Register:
Square Register is highly beneficial to the eCommerce business executives. Anyone can use this app with a tablet or a Smartphone. An added plug-in is needed to collect credit card payments. This app offers gift card and discount. Inventory reports, valuable analytics, sales reports and other project tracking details are displayed in the app dashboard. Once the payment process is done, digital receipts are sent to the customers. The merchants and customers can give their feedback on this app.
Evernote:
Evernote is an app that allows people to take records their ideas and take notes. It is compatible with all the mobile devices and user friendly too. People can make use of the voice recording feature in this app and they can store their recorded voice. The web pages can be bookmarked and saved for future use.  This app can gather all the information for research purpose.  The user can access everything both in online and offline modes. It has unlimited storage and free users are allowed to access fifty MB of data. For the additional data upload, then the purchase of subscription should be done.
Robin:
This app is similar to virtual assistant that helps to keep one's schedule updated. The user can send emails to colleagues and clients alike. It gives guidance for the parking and traffic updates. Siri and Allo apps also provide the same functionality.
Importance of Mobile Apps for Enterprise Growth:
The significant increase in Smartphone and tablet use has seen mobile apps become essential for many businesses. A mobile app provides a business with awesome growth and advanced opportunities due to increasing number of consumers using apps for shopping and browsing purposes, they can also benefit business in a multiple number of other ways.
Nowadays, more number of people instead of using laptops and computers are turning to mobile devices. Developing a mobile app for a business is an essential one so that the executives can be connected with the audience.
Acquire Patriotic Customers:
Mobile apps let the customers to get all needed information at their fingertips. It helps the business owners to reach the potential customer anytime, anywhere. The customer's location is integrated with the business through GPS (Global Positioning System). GPS permit customers to read local reviews regarding business.
Stimulating new commodities and Services:
The customers are able to buy products in online because, mobile app is incorporated with the user's inventory system. With the help of the mobile app, business owners can easily provide consumers with some useful information about new products, discount offers etc to increase their sales.
The sales can be expanded by integrating mobile shopping cart. Entrepreneurs can make the best use of apps to promote their business with the help of functions like Messaging, Photo sharing and Push notifications. The flexibility is increased at the customer base level because of online marketing.
The executives can include the detailed information about the products and services. Direct contact information is achieved through phone call, messages or e-mail. With the help of polls and surveys, the owners come to know about the customer's ratings, reviews and suggestions.
Upgraded End User Experience:
Mobile apps have increased the ease of accessibility and reliability. It has contributed high speed browsing to the business websites. This high speed made the customers stick to the business and the sales have been enhanced. In today's competitive world, both the business site and mobile app should be responsive and user friendly. For this requirement, an experienced team of mobile application developers is in great demand.
A Brief Sketch about Mobile Application Developers
Finding the right mobile app developer is relevant one to make sure the greatest ability for employing its use and deployment. If the app is not attractive or difficult to use then the customer will not be satisfied, then the business automatically goes down. Most of the organizations look for an experienced developer. Only a professional and experienced developer knows the essential things, dos and don'ts while creating an easy to use app for everyone.
Growth of Shopping Apps
The rise of mobile device usage has bought an increase of users who are making purchases online from their tablet or Smartphone. Although online shopping can be done on the website, many consumers choose to download an app for this purpose. Apps tend to have a user-friendly interface and other features make shopping easier for the buyer. Businesses are taking advantage and using mobile apps to help their business grow in the future.
Scale of Future:
As more businesses endorse apps, the demand for their service grows. The increased market share will make the apps a necessity for the businesses in order to integrate a consumer's campaign from product browsing to payment. In future, the apps needed to be adapted to work on new online platforms.