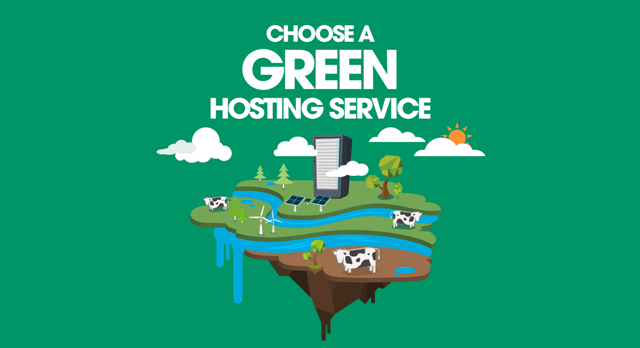 When starting up your own website, some of your red lines will have to be compromised. However, if one of your red lines is a green and eco-friendly web host, you won't need to give it up as there are plenty of green web hosts around. At first it might seem difficult to know what to look for when it comes to finding a green online storage space provider, but we've got you covered with this list of exactly what you'll need.
Server reliability
Even though you're looking for a green web host, there is no need to compromise on quality. You are well within your rights to expect the same quality from an eco-friendly web host as you would from any other.
So, in terms of server reliability, you should be looking at whether the hosts 24/7 operation (which it should) with a powerful server and a stable network connection. This means that your site will always be running and is constantly available to the world.
Add-on domains
Once again, the quality of the web host is paramount. If you're a customer who has multiple domains (as many people these days do, seeing as they're so cheap and easy to get hold of), you'll want a web host that will allow you to add multiple domains. In the long run, it saves you money and reduces the amount of storage and energy you take up by using a different host for each website.
Most web hosts allow at least 25 add-on domains, so you should be perfectly fine. If you need over 25, its best to look around and contact different web hosts to see what's best for you. It is important to check the add-on policy, though.
Account suspension
As you're looking for a green web host, you should be aware of energy consumption levels – and need to check how much energy you're allowed to consume before the web host suspends your account.
Some green web hosts only allow you so much energy, whereas some will say you have an 'unlimited' reign on how much you use. However, even if it says 'unlimited', there's still a limit, so before you sign anywhere, it's important to check. You can really check by looking around and comparing different hosts with each other, deciding on what's best for you based on this. One example of a strong green web host with no issues for a decent amount of traffic and energy usage is the EcoSite Starter Plan by GreenGeeks.
How their energy is sourced
One of the most vital parts of choosing a green web host is finding out how their energy is sourced. Plenty of web hosts will use 100% renewable energy, like Kualo, for example, which is sourced by Scottish Power and is committed to green energy. It's also a great one because there is no off-shoring or outsourcing, so the energy really is as green as it can be.
Other web hosts will make promises and guarantees on where they source their energy and how they will give back and continue the sustainable, eco-friendly plan.
What do they pledge to do on their part?
It's all well and good a web host promising to source its energy 100% renewably, but what lengths does it go to in order to reduce its own energy consumption and carbon footprint?
A great way to choose a green web host is looking at whether they pledge to reduce their carbon footprint, their wastage from their offices and the energy used in their offices. It's best to find out the company's message and what it says about itself, like Dreamhost which does all of the above with the added bonus of being carbon neutral. Now that is a dream.