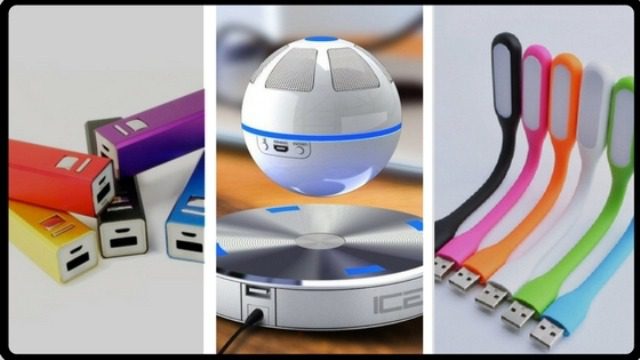 Promotional marketing trends are very dynamic in nature. Now and then people tend to spread rumours that promotional product marketing is dead. Though, that is not the case. The way of using promotional items, however, changed drastically. Lately, it was used as giveaways in the supermarket or your customer will get these freebies only when they purchase your product.
That time is now long gone. Now, newer promotional item trends are underway. Entrepreneurs tend to spend much budget on these giveaways. The reason is quite simple, today's market is not just a market for products and services, it is a market of brands. When your prospects identify your name separately from your competitors, the true success of your business is then evaluated.
This post is about how you can leverage cool technology gadgets as promotional products. In this post, you will get to know some of the coolest tech items that can serve just perfect as a promotional product for your marketing strategies.
Let's get started with it,
A 3D Virtual Reality Glass
Virtual reality glasses were first discovered in 1994 (Weird, right!!!). But they weren't common at all. With increased interest of corporations in the VR market in 2017, it gains trend among common people. As the smartphones are gaining features, VR provides an enhanced experience in visual susceptibility of smartphones.
Some of you might be thinking, "VR Glasses, as a promotional product?" while some of you might think as, "VR Glasses as a promotional product!!!". That is the difference (I reckon you have acknowledged the question mark and the exclamation mark). They might seem little expensive as a promotional product but with a scaled distribution, it can serve as "The Perfect" promotional item for 2018.
A Custom USB Flash Drive
With the dawn of digitalisation and technological surge, Businesses and even common people love to keep a USB flash drive handy. When you provide a USB flash drive imprinted with your company's logo, you will be praised by your prospects. A Flash drive suits all sorts of customers, clients and employees. You can gift them to show them the value you give them. This sort of applause is always welcomed by your prospects.
USB Flash drives are usually preferred for employees. You can give them these devices with your brand name and create a positive environment among the peers itself.
A Customisable Power Bank
Usage of the smartphone is not just high, it is super high. Smartphones run on batteries and power banks are the solution. Gift your prospects this solution with your brand logo and you will be pleased with the results. No one like to have a smartphone with low or no battery at all. With your gifted power bank, whenever such conditions will occur, they will remember your brand.
If you believe a psychological analysis, it says that some text can make a place in your subconscious mind if you confront it on a regular basis. Leverage a customisable power bank to fulfil your marketing needs.
A Bluetooth Headphone
Who doesn't love a boosting headphone with high bass? A promotional Bluetooth headphone can be a perfect giveaway for your prospects. There are many reasons to use a Bluetooth headphone as a promotional item. They are cool and useful. A Bluetooth headphone lets you enjoy music without getting strangled by any wire. Use your brand's logo and make your prospect go wow about this.
A Mini Speaker (Bluetooth Operated)
A branded Bluetooth speaker will come in handy for your prospects. The first profit your prospect will be getting is that it is wireless (Of course, it is operational via Bluetooth!!!). Second, your prospect will be pleased to receive calls even while playing music at the same time. Imprint your brand name and remind them that you are always there even in their relaxing times.
A Solar Phone Charger
Solar powered devices are trending from the year 2016. They are also preferred by most of the environmental activists as well. They are a pure source of clean energy and now they are handy as well. Give your customers a solar phone charger and spread the awareness of clean energy. Tag a logo with it to constantly remind them that your company care for them.
A Tacky Analogue Clock
In the digitally-driven world, an analogue clock may not seem to be a good idea. No, that is certainly not true. Analogue clocks always are close to the heart of a common man. They are classy, they are accurate, and people love old school. Gift them a tacky analogue clock and increase the value of your brand by tick tick tick rhythm on their wrist or on their wall. A perfect promotional product which will remind them of you every second.
A Branded Popsocket
The Popsocket is a great, inexpensive gift for anyone with a smartphone. It's also an awesome option for promotional swag. You can adorn them with your brand easily by creating a custom popsocket skin that has your logo or promotional message on it. Then, let your customers show you off to people everywhere they go — people rarely leave the house without their phones.
A Calculator Cum Desk Clock
Multifunctional gadgets are perfect in this multifunctional environment. You can give your customers a calc cum desk clock. This promotional item got two modes. One with a fully functional calculator, while the second mode will transform this gadget into a clock with an alarm system. Tag along your brand's logo and spread your brand awareness campaign effectively.
A Binocular
It may not seem like a technology item but still, you have to agree that binoculars are cool. My argument is they show you distant objects with the help of scientifically placing the lens right. They are technical!! Make use of them as one of a promotional item for your prospects. They are cool and sophisticated. Your customers will love them.
Final Words
So, as you can see these 9 cool tech items are perfect for your promotional marketing. Let's have a glance once again over these promotional merchandises.
A 3D Virtual Reality Glass
A Custom USB Flash Drive
A Customisable Power Bank
A Bluetooth Headphone
A Mini Speaker (Bluetooth Operated)
A Solar Phone Charger
A Tacky Analogue Clock
A Calculator Cum Desk Clock
A Binocular
What do you think? Let me know via comments. Feel free to give me more valuable suggestions. Cheers!!!
About Author
Ross Taylor is working as a professional blogger at Logopro Promotional Products which is offering Promotional Products in Australia. She used to write about creative gifts ideas related to Business, corporates, Lifestyles, Occasion and many more. Things that she loves to do is Travelling, Shopping Freak, Reading Novels and much more is there.