Watching online videos is a great pastime for everyone. Whether you consume most of your videos on YouTube or Facebook, Instagram, Vimeo and the likes, at some point, downloading a favorite video for offline viewing or other purpose has probably crossed your mind.
Whatever the purpose, it is quite essential to know how to download and save these videos. Usually you have two options: Install a desktop program or utilize an online video downloader. Today we will bring you the best online tool – VideoSolo Online Video Downloader which shall enable you to download video from video-sharing sites.
Why VideoSolo Online Video Downloader is the Best?
VideoSolo Online Video Downloader is a powerful online service that allows you to download your favorite videos as well as music tracks quickly, easily and absolutely for free. You don't need to install a software or search for other web resources from overwhelming number of tools on the Internet. With its help you can watch online movie, TV show, sports game and even listen to music you like without opening the website.
Highlight Features of VideoSolo Online Video Downloader:
VideoSolo Online Video Downloader is free of ads, virus and also downloads free of charge. You are allowed to download as many videos/audios as you like from YouTube, Facebook, Instagram, Vimeo, SoundCloud, etc.
Support of Multiple Formats
It supports different video/audio formats and resolutions. For video format, it allows you to save videos in these formats WEBM, 3GP and MP4. You can choose any resolution you like: 144p, 240p, 360p, 720p, 1080p, 2K, 4K or 8K. For audio format, it offers M4A, WEBM in quality of 64kbps, 96kbps, 128kbps, 256kbps and 320kbps.
Cross-browsers & Full Platforms
This online service supports all popular web browsers (including Google Chrome, FireFox, Safari, Internet Explorer, Microsoft Edge) at any platform, regardless of whether you are using Windows, Mac OS or Linux, Android, iPhone. Subtitles can be downloaded as well.
Original Quality & High Download Speed
With the built-in advanced technology, the high output quality and downloading speed that surprise everyone.
This intuitive and simple online ripping tool doesn't require your email or any personal data to register. Users can grab video of their choice directly within a limited time period.
My Own Experience: How to Download Video with VideoSolo Online Downloader
Step 1. Copy and Paste the Video URL
Open your web browser, find the online video you want to download and grab its URL from the address bar. You can simply copy this URL to your clipboard by typing Ctrl+C on a Windows computer or Command+C on a Mac. Then head to the official site of VideoSolo Online Video Downloader and paste the URL to the input box at the top, and click the black "Download" button to the right of that bar.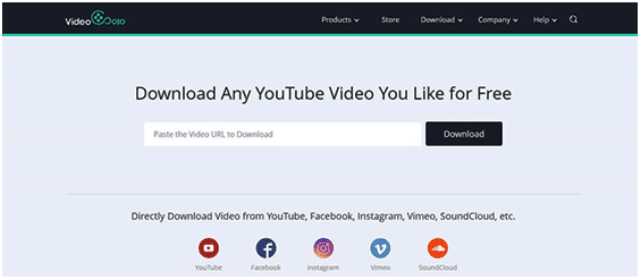 The smart downloader will retrieve information about your video and give you some quality options. It will load for a few seconds which will vary depending on the quality of the original video.
Step 2. Choose the Format and Quality
After loading, it will show the video image with title and 4 sections: Video Download. Video-Only, Audio Download and Subtitle. Then you can decide in which type and format you'll save the video. Generally, you can choose MP4 output format as it has the greatest compatibility. For playing back video on your TV or PC, the highest resolution is recommended, but bear in mind that this will take longer and will take up more space.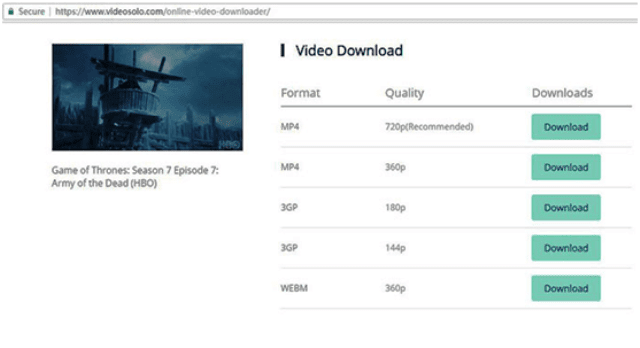 Tips: If you don't know which one to pick, worry no more, thanks to the downloader's intelligence technology, just go with the recommended option, as it gives a good balance of quality and file size for your original video.
Step 3. Download the Online Video
Afterwards, you can click the green "Download" button to download your video or audio track. The video will now be downloaded for you, find it in the destination folder and enjoy!
Note: Keep in mind, you should only download videos when you have the copyright authorship's permission, otherwise it shall be considered an illegal act.
Final Words
Of all the free video download tools we reviewed, VideoSolo Online Video Downloader gets videos from the YouTube or other video hosting sites onto your computer the fastest. In addition, unlike some of its competitors, this one can let you download just the audio from a video or video-only which is very useful for your practical purpose.
There are a couple things that keep it out of the top spot. It has not so much video format options to choose from and it doesn't support MP3 for audio output. However, even without these missing features, it's a solid download tool that anyone can use freely.