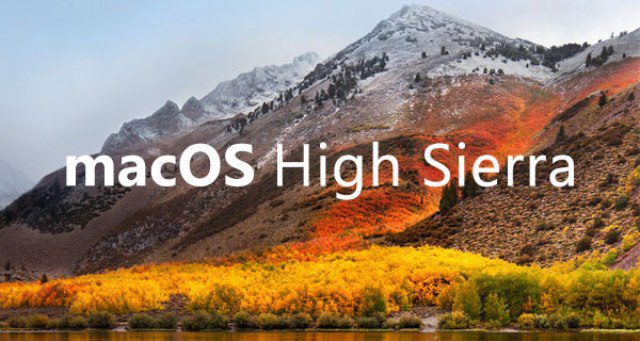 Apple released the first beta update for its macOS High Sierra 10.13.1 back in the end of September 2017 where it gained considerable momentum among the community of Apple beta testers. Since then company officials have rolled out two rounds of updates out of which 10.13.2 beta has been released today.
While the officials announced the release of macOS High Sierra in its Worldwide Developers conference, industry analysts concluded that the new name is followed by the existing name of macOS Sierra and there will be a number value added and handful upgrades to the existing version.
While providing an initial overview that highlights company's core focus areas officials said that video, graphics and data appears on top of the list. In addition to that, they also added that the newer version is a combination of in-depth technological appraisals and intelligent ideas that will indeed address the majority of reported issues as well as dynamic demands by the end users where the factor of improved reliability, capability and responsive are most highlighted.
Let us first take a look at some of most appreciated apps updates
Facial Recognition and memories got better
One of the biggest value addition appears to be the improvements that have been made to the Photos section. End users are now provided with a more advanced and improved version of Photos where new filtering options are given. A new way of presenting the past media in chronological order and improved media organization have delighted the end users. The inclusion of Curves for professional photo editing, support for third party photo editing tools and services like Shutterfly are yet another worth mentioning elements that have made the latest version more prominent.
Safari is all set to create strong user engagement
With the latest release of Apple macOS 10.13, Safari which is said to be the fastest web browser and considerably outpaces today's other renowned web browser. According to the various industry experts and analysts, the newer version of safari now features an option to disable and discourage those websites that automatically starts playing video. On the other hand, several new privacy upgrades have been also added that have become another strong set of value addition for the end users of Safari.
Machine learning has made it easier for many apps
According to the Apple officials, machine learning has been more integrated and refined in terms of performing several automation based minor tasks that makes it easier for the users to keep themselves not just engaged with the system but get a number of operational tasks done automatically. For example the search algorithm of Mail has been improved and keeps strong track of your activity. In addition to that, Siri and Notes have also been upgraded with value added features.
Improved iCloud and Facetime
Upgrades to iCloud such as sharing any piece of data with another person with a new link, direct file access and folder rights are just another set of valuable upgrades that have made it easier for the end users to deal with their data storage and sharing needs. In addition to that, now facetime allows taking live photo while interacting with someone which then notifies both of the participants about the activity while putting the photo into the library.
The top highlighted Pros of the all-new macOS High Sierra 10.13
According to the Apple officials who introduced and presented the all-new 10.13 release in the Worldwide Developers conference, following are some of the top highlighted value propositions that they considered to be the best in class value additions and benefits to the end users.
The all-new Apple File System (APFS) is the best value addition
In terms of bringing value added performance and reliance to the area of data management, a more advanced Apple File System (APFS) is now the latest default in the macOS High Sierra 10.13. According to the experts AFPS is the most advanced and ultra-responsive value addition when it comes to storage systems such as solid state drives. Along with that it features safe document saves, native encryption, absolute crash protection and stable snapshots.
Featuring high efficiency video encoding (HEVC)
The all-new version of High Sierra features an advanced high efficiency video encoding H.265 which is highly capable of bringing improved colors and details. In addition to that users are provided with a more enriched compression as compared to the H.264. Moreover, High Sierra brings augmented software encoding for all Macs while featuring HEVC hardware acceleration to the newer Mac models.
An exclusive upgrade to the graphics by Metal 2  
Metal 2 is an upgraded version of the Apple's Metal graphics APS which has been considered to be the next-generation Apple graphics. According to the industry experts, the latest Apple Metal 2 features considerable improvements in terms of indirect argument buffers, driver optimizations, resource heaps, sampler arrays and much more. Metal 2 is dedicated to bring considerably enriched and smoother window animations.
Most of the industry experts have agreed that the all-new Metal 2 is highly capable of featuring improved support and brilliance to the area of Virtual Reality based content creation as well as external GPUs. Apple officials have added that they are also providing an external GPU development Kit to the iOS developers in terms of achieving their virtual reality based content creation tools.
Also Read:- Top 7 Racing Games For iPhone And Android
The top highlighted Cons and setbacks regarding the macOS High Sierra 10.13
Although the all-new macOS High Sierra is highly upgraded and improved version of the previous macOS Sierra and industry experts have managed to gather only a few cons and setbacks in the case of the latest version. Let us now take a look at those minute areas of concern that Apple still needs to focus on.
Users expected to have a bit of newer gaming and entertainment apps
According to most of the market research reports and online forums that promote idea sharing for the iOS and MacOS users, a larger portion of users were expecting that the new release will include a set of exclusively developed gaming and entertainment value additions but unfortunately the latest version seems to be less focused in this specific area.
Demanded a converged operating system
It has been a part of most of the debates that there is a huge proportion of the entire Apple users who have continued to expect that someday the company's two operating systems will converge into one single platform. Several industry experts and renowned blogs have considered the High Sierra upgrade as a huge disappointment. Many industry experts have concluded that the new version is simply a recommitment to the macOS which can be further validated  by looking at the fact that upgrades to Siri, Notes, Facetime, iCloud, Safari and machine learning based improvements are only a set of surface level developments.
 Exaggerated graphics and animations
According to several market critics and Apple's beta testers, officials have proclaimed that the upgraded version of Metal brings more brilliant graphics and animations but there is a minute difference that can be found upon testing it on the latest macs. On the other hand, industry experts have also identified that the change from H.264 video encoding to H.265 video encoding encompasses minor changes and does not feature much benefits as stated in the Worldwide Developers conference.
Also Read:- The listing of Redbytes for iPhone App Design, Naming, and Localization
About Author
Jason is a professional iOS app developers with several years of unrivaled experience and skill sets that have made it possible for him to set his name above others in the global market. He is currently leading an expert team of iOS app developers at a renowned Leading iPhone App Development Company Singapore that has brought considerable success to many of its clients.