As Microsoft Word Application to create documents for Organization work, Projects, Documentation by Million of user all over the world daily but while working with word file, MS Word user faces corruption issues that can lead loss of work done by him. Hence in this article, we deal with both situation, how Naive MS Word user can repair corrupt word file without any utility and if methods fail then which software can help you out in this situation.
First of all, a user needs to understand that when word file corrupts, MS Word Application pop-up warning and error messages, Warning messages error can be resolved but when error messages occur then word repair tool needed to fix it. First, we start with Word Repair error, some common error is given below that helps to understand different errors of MS Word File.
Word was Unable to Read This Document. It May be Corrupt
There Was An Error Opening the File Word' Issue in MS Office
Document Name or Path is Not Valid in Word – Error Solved
Recover the Previous Version of Word Document File of 2016
Retrieve Deleted Documents in Word?
The file is Corrupted and Cannot be Opened.
These above error messages occur when some issues arise during corruption in Word file. You can find a manual solution such as  Open & Repair inbuilt utility of MS Office application but this feature used to fix for minor corruption. For highly corrupted file or any inaccessible word file, MS Word Application user can download SysTools Word Recovery Tool.  In Below section, we try to find out features and understand how a naive user understand complete working of the utility,
First, we start with the specification of Word Recovery Tool need to run the software on Windows 10 and All Below operation system
Software Specification
Hard Disk Space Required: 100 MB
RAM Needed:  1 GB is recommended
Supported Windows OS: Win 10,  8, 7 and Below Versions
Supported MS Word File:  Word File of 2019, 2016, 2013, 2010, 2007
Software Version: 4.0
After checking the specification, we need to install the software within the system, for that, you need to download software from given Link:  SysTools Word Repair Tool
Now we run the software, see how it helps MS Word user to repair their corrupt word file and save into again a healthy.Docx file format of Word file of MS Office.
1) Add File: First, we Add Corrupted word file within the software, for that two option are available with utility. Add File and Add Folder these options allow a user to add either single corrupted word file or you can add a complete folder of corrupted word file according to your need.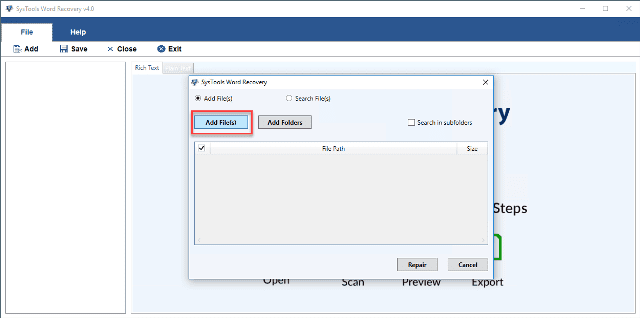 2) Search option: An additional option, that helps lots of naive Word file user of searing word file within the system automatically by software. Since the most naive user doesn't know the default location of the word file if the file saves in the default location. With software, you can find corrupted word file all drives (C / D / E) automatically.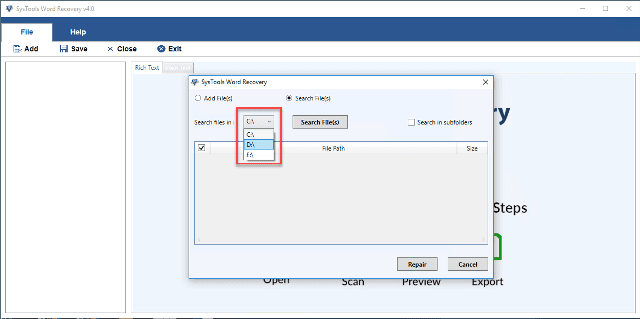 3) Automatic Repair Option: Just One Click to Repair corrupted Word File of any Versions, either it created in Word 2019 or 2007. After that, software doesn't directly convert into healthy file format before that it allows you to preview all recovered details stored in Word File.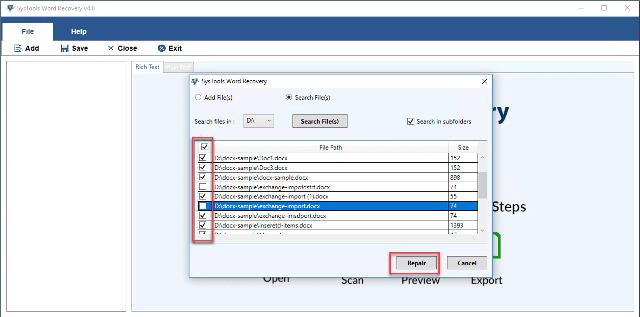 4) Preview Details:  Now preview the repaired meta-details of healthy word file by the utility.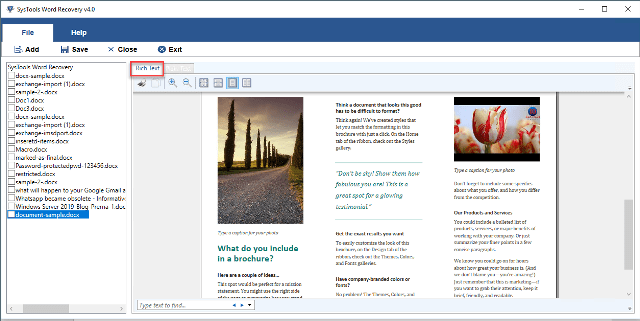 | | |
| --- | --- |
| Designs & Layout | Embedded Videos |
| Lines, Shapes, Hyperlinks | OLE Objects |
| Font, Paragraph, Style | Themes & Templates |
| Header & Footer | Embedded online pictures |
| Shapes, Icons, 3D Models | Smart Art, Charts, Tables |
5) Save Recovered Word File:  With the software, you can save the desired repaired word file with the software. It offers an option to save only the selected word file after the recovery of a corrupted word file. According to your choice, you can save the desired word file and open again in the Word File Application.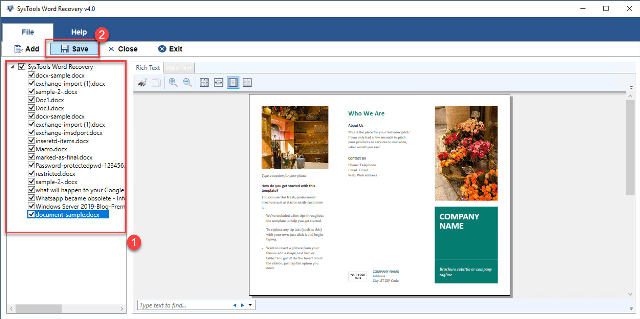 After running the SysTools Word Repair Tool, find out some advantages of the tool, mentioned below:
Pros of Word Repair Tool
Different Option to ADD Word File
Repair Word File Automatically
Save Desired Word File after Fixing Corruption issues
Preview all recovered elements of Word File
Different Mode of Preview to check all details of Word File
Advanced Search option to find Corrupt Word File within the Drives.
Limitation of  SysTools Word Repair Tool
1) Work for Only Windows Operation System
2) Demo version of Software allows you to preview recovered details
Conclusion
Word Recovery can repair Word File without any trouble. Its features are useful and the tool interface is also simple and user-friendly.. For naive MS word user, who is looking for a solution to repair their word file of different MS Word versions can download and check this application.